Back to all posts
Posted on
November 20 BUZZ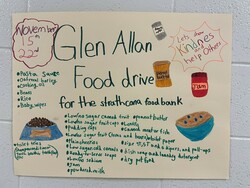 Happy Monday!
Glen Allan's 4th Annual Food Drive continues until Wednesday. Thank you to all who have already donated. Let's see if we can beat last year's total of 1042 pounds of food.
It's a great week for a great week!
Please read through the following blog post articles for important Glen Allan information. 
Action 
Opportunity
Information 
First Nations, Métis, and Inuit Information
Rock Your Mocs
Food Bank, Financial Literacy & National Pickle Day
Be Kind All The Time - Bully Awareness Week 
WEEK AT A GLANCE - November 20 - 24
Monday

Remember to bring in your Food Bank Donations

Tuesday

Wednesday

Last day for our Food Drive for the Food Bank
Division 2 Assembly

Thursday

Dungeons and Dragons Club in the library at lunch

Friday

Last day to order Art Cards
Glen Allan Elementary's Assurance Review
ACTION
Save-The-Date: Winter Showcase (formerly Christmas Concert)
Classes are preparing their songs for the concert! While the concert will look different this year as we were unable to book Park Church, we are excited to host our families in our school gym.
Due to fire regulations that dictate the gym's capacity, we will ben holding 4 separate showcases on Wednesday, December 20. 4 Tickets will be provided for each family, for the evening. If you do not need all 4 tickets, you can send the extras back to school. (If you have a child performing in one showcase but they have a sibling in another showcase, you will need to use one of your four tickets for them when they aren't performing)
Showtimes for Winter Showcase Wednesday, December 20
| | |
| --- | --- |
| 2:15 – 2:45 | Kindergarten Showcase |
| 6:00 – 6:30 | Grade 1 & 2 Showcase |
| 7:00 – 7:30 | Grade 3 & 4 Showcase |
| 8:00 – 8:30 | Grade 5 & 6 Showcase |
Students will be expected to arrive to their classrooms 15 minutes before their showcase and doors will open to parents 15 minutes before showcase begins
Watch for information from Mrs. Delainey to come in early December.
Reminder: Glen Allan's 4th Annual Strathcona Food Bank Drive
Thank you to all who have already donated. Let's see if we can beat last year's total of 1042 pounds of food. Glen Allan's 4th Annual Food Drive continues until Wednesday. 
The top needed items are:
No-sugar-added canned fruit and fruit snack cups
No-sugar-added fruit juice, both 1 liter and juice boxes
Low sugar, cold cereals
Canned tuna and meats
Canned mushrooms and mixed vegetables
Low sodium broth, 1 liter tetra
Ready to serve soup, chili or stew
Box Macaroni and cheese (such as KD or Annie's)
Personal hygiene items including feminine hygiene, bar soap and shampoo
Size 4T, 5T and 6 diapers and baby wipes
Dry Dog and Cat Food (we are struggling to meet the demand for pet food so we would really appreciate it if donors would be willing to donate to support furry companions).
Thank you in advance for your kind and generous donations of any size!
GASC Art Cards
The Art Card Program is a fundraiser, run by volunteers, that allows you to purchase customized greeting cards featuring your child's art. Students were sent home with an order form on Friday. Orders are due back to the school on November 24. 
OPPORTUNITY
Navigating Mental Illness in Children and Its Impact on Parenting: Struggles, Hopes, and Triumphs
On November 21 at 7:00 pm Alberta Health Services in collaboration with the Mathison Centre, and Perlin Foundation are hosting, "Navigating Mental Illness in Children and Its Impact on Parenting: Struggles, Hopes, and Triumphs."
This free, online event aims to provide valuable insights into the challenges faced by parents dealing with mental illness in their children, as well as the strategies and triumphs that come with navigating this complex terrain. 
Please use the link below to register:
https://albertahealthservices.zoom.us/webinar/register/WN_s6D8OFeUTzSK_6xh3osUWQ#/registration
Updated Parent Information Evening - ADHD and the Brain
Sherwood Heights Junior High is hosting an ADHD Parent Information Evening at their school on Wednesday, November 29 at 6:30 pm.
ADHD Edmonton's President Rachel Rogers, who is a psychologist specializing in supporting families with children managing ADHD, will be the speaker.
Rachel has worked with Edmonton Public Schools as a teacher, counselor, and Psychologist on multidisciplinary teams and is a wealth of knowledge to parents.
Rachel will be talking about the history of neurodivergences, what is ADHD, and the brain, will briefly talk about the role of medication, multimodal treatment, strategies, and self-regulation. She will also talk about ADHD Edmonton and the supports available (there's a lot!) and finish with Q&A to address questions.
This session is open to caregivers and professionals and will be held in person at Sherwood Heights Junior High as well as a virtual option. The first link provided was to gauge numbers for the presentation. Please click on the updated link below to formally register:
https://events.teams.microsoft.com/event/250a9c5b-3438-4b1a-8118-93d8296f4391@9e47afea-5e57-40c3-8443-f2df4a2f4b3f
INFORMATION
Report Cards Coming In December
On December 1, parents and guardians can access report cards through PowerSchool—simply log in to your account and click on the "Report Card" button in the left-hand sidebar.
As in previous years, students will be assessed on a Learner Attributes Scale and Achievement Scale. Some categories have been modified to align with the new curriculum that was introduced this year. Additionally, as in precious years, some outcomes in English Language Arts and Literature (ELAL) and Math will be reported on in each term, while other outcomes will only be assessed once in the year. 
There are important concepts to understand when looking at the grading scale.
This scale does not represent a percentage conversion. Meaning, if you see your child has a 3, in a particular subject, it does NOT reflect a 3/5 or 60%. Elementary students do not receive a percentage for any grade or subject.
It is about the descriptors not the numbers. For example, if your child receives a 3 in "Understands Visual and Written Texts", it means your child is meeting learner expectations, applying concepts in familiar learning situations, and requires reasonable support, using skills and strategies. In other words, your child is meeting the curricular demands for that specific time of year with grade appropriate content.
Report cards are communication tools that represent a snapshot in time of your child's progress on specific outcomes of the curriculum. As with all learning, we expect students to continue to grow and build new skills, knowledge and understandings throughout the year. We hope that the report card provides you with information that will guide further conversation about your child's learning. 
If you have any questions about your child's progress, at any time of the year, please contact the teacher directly. Our teachers are able to talk over the phone or they can set up a meeting at a mutually convenient time for all. Your child's success is important to all of us. 
Report Card Frequently Asked Questions
If my child has received mostly 3's on the report card, do I need to be worried?

No. Receiving a 3 on the report card means your child is demonstrating what they need to in order to show understanding in that outcome area.
My child's grades are lower this year with new curriculum than last year with the old curriculum, why might that be?

In Division 2, there are fewer reporting categories in English Language Arts and Literature and in Math compared to last year. Due to the combining of some categories, marks may fluctuate a little compared to previous years when there were more categories to report on. For example in Math, last year there were categories for Problem Solving and Demonstrating Foundational Math Skills. Those concepts are now integrated in the categories for Number and the individual math units. A student may have previously received a 4 in Demonstrates Foundational Skills but were less independent when applying those skills and received a 3 in Number and in Problem Solving. This year, if they are demonstrating the same type of achievement in these areas, they would likely get a 3 in Number which now includes all 3 categories.
My child received a 3 for this concept in term 1 and again in term 2, are they struggling?

No. As students progress throughout the year, expectations and demands also change. Maintaining a 3-level on the report card from term to term is a demonstration of growth, as the expectations for learners increase as the year progresses. In order to stay the same, they have to show growth. There is no cause for concern if your child has remained at a 3-level. 
My child received a 3 in term 1 and has received a 2 in term 2, should I be concerned?

As mentioned above, in order to maintain a grade, students need to grow. If you child has a 2 on their report card, it is indicating that they have not yet reached the learning outcome or may require high levels of support to be successful within a particular outcome. Examples of this occur when new units are being learned. Your child may have demonstrated understanding of adding and subtracting in term 1; however, struggle when beginning the multiplication unit for term 2. Teacher and home communication is paramount. If teachers are seeing  different levels of understanding, there should be regular communication with home.
My child is consistency demonstrating 3's. How can they demonstrate a 4 or 5?

Students demonstrating a 4 or 5 are showing highly independent learning strategies. They are able to transform their learning into new and different ways, highlighting mastery and extension of topics.
October Literacy Month Campaign Updates
Book fair
Our Fall Scholastic Book Fair was a huge success!
Thank you to all families, teachers, and students who participated, supporting our school while enhancing home libraries. Your investment in your reader helped our school to earn new books for our school and classroom libraries. These resources greatly benefit our students.
Our school's total sales were $7108.56. Our library receives 50% of that. We will have approximately $3500 to spend on books, $893 of which we've already received.
Our Teacher Wish List Board was also a success, as all our teachers had some of their wishes for books granted!
Indigo Love of Reading Campaign Update
Glen Allan's school's total fundraised amount between in-store and online donations was: $1748.50
An Indigo e-gift card will be e-mailed to our school and we've set up an Indigo.ca customer account that will allow our school to access the Love of Reading 30% off discount when shopping for books online at indigo.ca this school year.
This year's Adopt A School program involved 140 schools, impacting over 40,000 students across Canada!
The Chapters, Indigo, Indigospirit, and Coles locations raised a groundswell of community support totaling $345,000 this year: at approximately $10 a book, this represents 34,000 more books for high-needs elementary schools!
Read-a-Thon
Tabulations have been completed and the results of the prizes have been determined. We are grateful to everyone who participated in this year's Read-a-Thon. The fundraiser was a huge success. Students raised over $10,650.00 for our amazing school.
The prizes were based on the Top Fundraisers and Top Spellers:
Top Fundraisers per class will receive either a $17.00 Gift Card to Indigo or a $10 Gift Card to Indigo
Participants in each class will receive 2 for 1 Admission to Strathcona County
The Top 9 Fundraisers in the School will receive Family Admission to Strathcona County Recreation
Top 2 Fundraising Class per Division will receive Open Gym time or Maker Space in the

Div 1 Winners KA and 1-1
Div 2 Winners: 4-1 and 5-1
FIRST NATIONS, MÉTIS, AND INUIT INFORMATION
Rock Your Mocs Follow Up
Our students participated in a Rock Your Mocs last week. Last year, Jeremey Albert shared this video with us. Some of our classes also watched it this year. When watching it, students are asked to pay attention to the variety of styles, materials, patterns, and colours that are used in the many moccasins you'll see. You can also search #rockyourmocs on social media platforms for more information and photos!
PHOTO GALLERIES
Rock Your Mocs
















































Food Bank, Financial Literacy & National Pickle Day!

















Be Kind All The Time - Bullying Awareness Week