First Nations, Métis & Inuit
Virtual Gathering of First Nations, Métis and Inuit Parents and Families
tanisi and taanishi kiiyawow
These gatherings are an opportunity for First Nations, Métis and Inuit parents/guardians to come together to make connections, create a supportive environment for dialogue, share hopes and ideas for their children within the EIPS family, and learn what's happening around the Division. We're grateful to Elder Wilson Bearhead for attending the virtual gatherings last school year and agreeing to open each gathering again this year. It's truly an honour and a privilege to be guided by Elder Wilson, and we hold our relationship with him close to our hearts.
Gathering 1:
Jan. 18, 2022; 7–8 p.m.
welcome and introductions
words from Elder Wilson
questions/hopes/queries discussion
Gathering 2:
Feb. 15, 2022; 7–8 p.m.
words from Elder Wilson
special presentation by Rupertsland Institute for Métis Education: supports for Métis students and their families
Gathering 3:
March 15, 2022; 7–8 p.m.
words from Elder Wilson
topics to be determined based on wishes, hopes and interests expressed in previous gatherings
Sessions will take place online using Microsoft Teams Meetings. Join on your computer or mobile app.
Join the sessions (the same link will be used for all three meetings)
If you have any questions about the upcoming sessions, or the ongoing First Nations, Métis and Inuit education work within EIPS, reach out to the First Nations, Métis and Inuit education lead at your child's school or a member of the First Nation, Métis and Inuit Education team.
With gratitude,
Cheryl Devin, Harlee McArthur and Jeremy Albert
First Nation, Métis and Inuit Education team
Elk Island Public Schools
Tawâw, miyoonakishkatoohk, welcome!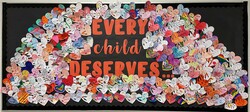 Glen Allan is a committed to working together to support First Nations, Métis and Inuit student success.  We believe in the importance of strengthening all students' knowledge of First Nations, Métis and Inuit people, cultures and histories, and Truth and Reconciliation inspired initiatives.  Our school strives to provide access to culturally relevant learning opportunities, resources, and support services including guidance from community Elders. We seek ways to support our parents and families who are also curious to learn about First Nation, Metis and Inuit cultures, perspectives and histories.
We are filled with gratitude to have Cheryl Devin, Jeremy Albert and Harlee McArthur here in our building, such an incredible addition to our Glen Allan Family.  They offer our whole school community continual guidance and support around our own growth and understanding; along with providing an authentic voice to our students.  Their teachings are integrated into our classroom lessons and activities, and also through various mentorship opportunities.