Back to all posts
Posted on
October 30 BUZZ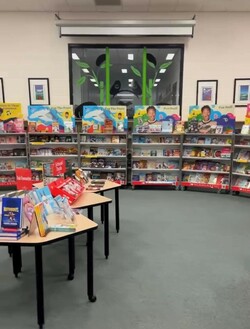 Happy Monday!
We hope everyone enjoy the gorgeous sunny blue bird skies yesterday!
Thank you all families who joined us for conferences and supported the book fair last week. It was wonderful to have so many from our Glen Allan community in the school. Thank you also for supporting the GASC Read-a-Thon and our Indigo Love of Reading Campaign. Our October Literacy month that kicked off Read in Week has definitely had a strong finish.
We will wrap this month up and kick off November with a Halloween Assembly, Early Dismissal, Hot Lunch, and Remembrance Day Ceremony. 
Please remember to submit your Read-a-Thon pledges by Wednesday, November 1. More information about submitting pledges can be found in the blog article below.
It's a great week for a great week!
Please read through the following blog post articles for important Glen Allan information. 
Upcoming events and important dates
Action 
Opportunity
Information 
First Nations, Métis, and Inuit Information
WEEK AT A GLANCE - October 30 - Nov 3
Monday

Hot Lunch Orders Close at 6PM

Tuesday

Wednesday

Kindergarten Hot Lunch
Early Dismissal - Students dismissed at 2:08 pm

Thursday

Friday
Upcoming events and important dates:
October 31: Halloween Assembly
November 1: Early dismissal
November 3: Remembrance Day Service
November 6-10: November Break (schools closed to staff and students)
November 10: Day in lieu of Remembrance Day (Central Services closed)
November 11: Remembrance Day
November 13-17: Metis Week
November 13-17: Bullying Awareness and Prevention Week
November 13: Odd Socks Day
November 15: Rock Your Mocs Day
November 15-22: Glen Allan 4th Annual Food Drive for the Strathcona Food Bank
November 16: Division 1 Assembly
November 16: Glen Allan School Council Meeting 6:30 pm
November 16: Parent Evening - Blanket Exercise at Heritage Hills
November 20: National Child Day
November 22: Division 2 Assembly 
November 29: Parent Evening - ADHD Presentation at Sherwood Heights
December 1: Elementary report cards published
December 6: Early dismissal
December 20: Winter Showcase (Christmas Concert)
ACTION
Remembrance Day Service: Friday, November 3
Please join us on Friday, November 3rd at 10:30 a.m. for our annual Remembrance Day Service.  Our service will pay tribute to the countless men and women who have served and continue to serve our country. 
Parents are welcome to join us for the service. We would like to extend a special invitation to any war veterans, members of the military or any other service groups (fire fighters, police officers, paramedics, etc.) to join us, in uniform, if applicable. There will be reserved seating available for these honored guests.  Please RSVP here if you are planning to attend.
Students are invited to wear their club uniforms to school as well, e.g. Cubs, Scouts, Cadets, Brownies, Guides, etc.
Indigo Love of Reading- Last Call!
Tomorrow is our last day to fundraise for our Indigo Love of Reading Adopt-a-School Campaign. Donations are being accepted in store (Sherwood Park Indigo) or online. Please share with family and friends so we can raise as much as possible for our school library!
Read-a-Thon Pledge Money Due!
As per the Read-a-Thon package pledge collection and submission will occur from October 30 – November 1, 2023. Each student should collect Sponsor pledges and either bring funds to the School and drop them off in the GASC mail slot in the office or complete an e-transfer.
All pledge money is due to the school by November 1 to be considered in the tabulation for prizes.
E-transfer/Cash/Cheques payable to GASC. 
E-transfer instructions:
Each Student's Sponsor Sheet is limited to one (1) e-transfer.
Email used to send e-transfer must be linked to the Students Parent Portal.
Add Students First and Last Name in the message (if available)
glenallantreasurer@gmail.com 
If you have any questions, contact Jenn Campbell Read a Thon coordinator at 780-907-3100
Ordering School Pictures
Here is a reminder of the process for ordering your student photos this year.
INSTRUCTIONS
Visit the my.lifetouch.ca website
Click on the Student ID tab
Enter your information as prompted
Enter your school name
Enter your student information
You will need your student ID from Parent Portal
Picture retakes were held Wednesday, October 18. The retakes photos should now be avaialble to view. 
OPPORTUNITY
Blanket Exercise (for parents only)
Heritage Hills Elementary is hosting a Blanket Exercise, led by members of EIPS First Nations, Metis, and Inuit Education Team, on Thursday November 16 from 6:30-8pm. Glen Allan parents are invited to attend. Click here to RSVP by November 8.
To learn more about the Blanket Exercise, please visit: https://www.kairosblanketexercise.org/
Parent Information Evening - ADHD and the Brain
Sherwood Heights Junior High is hosting an ADHD Parent Information Evening at their school on WEDNESDAY NOVEMBER 29TH at 6:30pm.
ADHD Edmonton's President Rachel Rogers, who is a psychologist specializing in supporting families with children managing ADHD, will be the speaker.
Rachel has worked with Edmonton Public Schools as a teacher, counselor, and Psychologist on multidisciplinary teams and is a wealth of knowledge to parents.
Rachel will be talking about the history of neurodivergences, what is ADHD and the brain,  will briefly talk about the role of medication, multimodal treatment, strategies, and self-regulation. She will also talk about ADHD Edmonton and the supports available (there's a lot!) and finish with Q&A to address questions.
This session is open to caregivers and professionals and will be held in person at Sherwood Heights Junior High as well as a virtual option.
To help gauge numbers, please RSVP: https://forms.gle/yRTvsps2GpYuBoVS7
INFORMATION
Counsellor's Corner - Tattling Vs. Telling (Mrs. Marks)
In conversations with students, I noticed concerns related to tattling vs. telling or snitching vs. reporting. Older students can be reluctant to report problems because they tell me "snitches get stitches" whereas younger students are often unsure of what or when to tell an adult. At times, students also misinterpret an accident as bullying, or they struggle to determine the size of the problem and report little problems as emergencies. 
This past week, I had an opportunity to visit some elementary classes. I worked with students to define tattling/snitching as well as telling/reporting. Together, we decided tattling is something we do to try to get someone in trouble. These are often small problems that we can ignore, that do not involve us, or problems that we can try to solve ourselves. When a misunderstanding occurs, instead of tattling, students can ignore it, try taking some deep breaths, or use an "I statement" like I feel frustrated when you kick my desk because I can't concentrate and I would like you to please stop. If these things don't help, then it may be appropriate to seek adult assistance. 
Telling/reporting is something we do to get someone out of trouble. These are big problems that students need help navigating. We decided we should always tell or report if someone is hurt, or if someone is sick, or if someone is being bullied, or if someone is behaving dangerously. If a person is in danger, we must tell someone—t​his is not snitching! 
We also paused and reviewed what bullying is. Students agreed bullying is when someone purposely does something repeatedly with the intention of hurting that person. That person and the bully are not friends. Bullying might be physical, verbal, or social. I encourage you to talk with your child about different types of bullying and come up with examples and non-examples to further solidify their understanding. 
Students enjoyed working through various scenarios and deciding if they should tell an adult. This could also be a wonderful conversation to continue at home. If you have any questions, please let me know. Thanks!
Halloween Reminders
Halloween is almost here and we are ready for some spooky fun! In order to make sure that this event is safe and fun for all here is what you can expect!
Halloween Assembly
We will be holding a Halloween Assembly for students in the afternoon on Tuesday. During the assembly, students will have an opportunity to show off their costumes if they choose to do so.
Halloween Costumes
Students are welcome to come dressed in their costumes for the day. Please help us out by making sure that costumes are not too scary/grotesque for our youngest students and that students leave weapons at home for their evening Trick-or-Treating! 
We ask that student costumes allow students to be able to sit in their desks or at their tables as this exciting day will still be a day of learning. We also ask that all inflatable costumes stay at home for trick-or-treating as they do not fit well in desks and unfortunately there have been incidents in the past when those delicate costumes spring a leak and end up getting damaged.
Halloween Treats - Staying Safe
While students may bring a treat or two to school on Halloween for themselves, we ask they they not bring treats for their whole class. We will ensure students have a fun day at school and know they will likely get many treats if they go trick-or-treating in the evening. 
Please remember that we are a Nut Aware school and we request that students not bring food items that contain nuts to school. This is make sure that all of our students are safe! We have Glen Allan students with severe nut allergies. Thank you for your cooperation in making sure everyone has a fun and safe Halloween!
Caregiver Series: November sessions
Alberta Health Services offers free online programming for parents and caregivers of children and youth. Sessions are offered through Zoom. Upcoming topics include building executive functioning skills and supporting wellness in later years. The list of November 2023 sessions is now available.
FIRST NATIONS, MÉTIS, AND INUIT INFORMATION
This week, our school had the opportunity to use the Giant Turtle Island floor map. This is just as it sounds - a GIANT map that is spread out over half of our gym that shows a variety of things such as where different First Nations, Metis and Inuit peoples settled, where different natural resources are located and where different treaties were signed. Our teachers have a variety of lesson plans that they can use with their students to walk along the map and see the story behind this land that we all share as our home. 
We are so grateful to have such rich opportunities to learn about Canadian history and the histories of the different people who have walked this land over time. 
PHOTO GALLERIES