Kindergarten Information
Preparing for Kindergarten Sessions
Dear EIPS families;
Your child's kindergarten year will be here before you know it. We're excited to welcome a new group of students to Elk Island Public Schools (EIPS) this fall!
Thank you to all families who took time throughout the past few months to share feedback through the Division's "Welcome to Kindergarten Questionnaire." The information is very helpful for EIPS and schools in planning for the coming year.
In response to the feedback collected, the EIPS Early Learning team has planned a series of general information sessions for families with children entering kindergarten in fall 2021. The sessions are designed to provide parents and caregivers with basic tools to help prepare children for kindergarten, to give families a bit of an overview of what children will be learning in kindergarten and to answer questions you may have.
We invite you to register for any or all of the upcoming sessions that fit your schedule. Sessions will take place virtually, and the links to join will be sent directly to all registered families the day before each one.
Fine-Motor Development
Date: Tuesday, June 15, 1-2 p.m.
Many fine-motor tasks develop in a predictable sequence. We'll go over the stages of fine-motor development in young children and give ideas for activities and play at home to help children feel more confident moving into kindergarten. We'll discuss when children are ready to learn to print and activities that will work on pre-printing if they aren't quite ready yet.
Speech-Sound Development
Date: Wednesday, June 16, 1-2 p.m.
By the time children reach the age of seven, they're usually making all of the speech sounds of their first language. As children's speech develops, the number and type of errors they make changes. Many parents have questions about whether their child's speech-sound errors are typical or whether they should be concerned. This interactive session, hosted by two EIPS speech-language pathologists, will provide information about the progression of speech-sound development and strategies parents can use to support this development.
Self Help: Building Independence
Date: Tuesday, June 22, 1-2 p.m.
Join an occupational therapist to learn strategies to help your child build independence. The session aims to increase your child's successful participation with self-help skills and daily routines. We'll touch on ideas for self-help skills such as dressing, managing their snack and organizing belongings.
Literacy in Kindergarten
Date: Wednesday, June 23, 1-2 p.m.
Literacy is an exciting part of a child's early years in school. Join us to explore what literacy looks like in kindergarten. We'll also discuss fun and easy ways to incorporate important early literacy skills in your everyday activities over the summer. Part of the session will include a review of materials available on the EIPS website for parents to access to learn more about the different aspects of early literacy.
In addition to the sessions, additional resources to help prepare for kindergarten are available on the Division website: Preparing for Kindergarten.
If you have any questions about the upcoming sessions, contact Cindy Talaga, EIPS early learning consultant, at cindy.talaga@eips.ca. For questions specific to your child's school, reach out to the school office directly at any time in June. EIPS looks forward to welcoming your child into one of our kindergarten classrooms this fall!
Sincerely,
Early Learning Team
Elk Island Public Schools
2021-2022 Kindergarten Registration is OPEN!!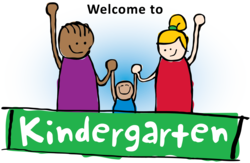 Kindergarten Registration is OPEN!!
Is your child turning five on or before Dec. 31, 2021? If so, it's time to register for kindergarten!
Starting school is an exciting time, for both children and parents. Although exciting, it can also be daunting if you don't have the information you need. To help, Elk Island Public Schools has put together an online toolkit to make the transition as smooth as possible for Glen Allan Elementary families. 
Learn more about kindergarten at Glen Allan Elementary https://www.glenallanelementary.ca
Click here to register with EIPS.
Glen Allan Elementary would like to invite you to our Virtual ECS Information Night on Thursday, May 27th at 6pm.  
Click here for the EIPS Kindergarten Calendar for 2021-2022!
2020-2021 Kindergarten Information for Parents