Back to all posts
Posted on
September 6 BUZZ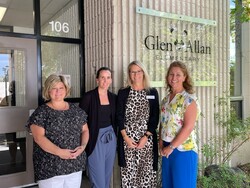 We had an amazing first week and are looking forward to an equally wonderful second week.  There is an energy in the air that comes with the start of a new school year filled with excitement, nervousness, joy, and positivity.
Collectively we are all working towards the same goal, to provide our students with the best learning experience. We aim to create learning spaces where students feel safe and welcome, are engaged and active learners, and foster positive relationships with others.
It's been a joy in the first week to see students working together, engaged in their learning, and showing kindness to one another. It is a privilege to be a part of such an incredible school community!
We are excited to welcome all our parents into our school on Thursday, September 8 for our Meet the Teacher Open House. More information related to the evening be found in the Meet the Teacher article below.
As we settle into the routines of a new year, here are a couple reminders:
This Wednesday is early dismissal day, students will be dismissed at 2:08 pm. If you would like to review Glen Allan's bell schedule, you can find it on our website here
The "Correction and Verification Form" is now available online through your PowerSchool Parent Portal. More information related to the CVF can be found in the "Update your PowerSchool Information" article below.
It's a good week to have a good week!
Jen Ference
Week-at-a-Glance
Action 
Meet the Teacher
Save the Date - Glen Allan School Council Meeting
Update your PowerSchool Information
Student Medications
Attendance Reminders
School Agenda Reminder
Opportunity
Pay School fees online!
Sync the School Calendar to your calendar
Download the SchoolMessenger App
Information
Improving home-school communication
Video surveillance on buses
EIPS Career Pathways
WEEK AT A GLANCE
| | |
| --- | --- |
| Monday | Labour Day - Schools Closed |
| Tuesday | |
| Wednesday | Early Dismissal - Students dismissed at 2:08 |
| Thursday | Meet the Teacher Open House 6:00 - 7:00 pm |
| Friday | Evacuation Drill at 9:00 am |
ACTION
Meet the Teacher
We are excited to welcome all our parents into our school on Thursday, September 8 for our Meet the Teacher Open House. From 6:00 pm until 7:00 pm we invite families to come to our school to visit your child's classroom, see where their workspaces are, and meet the teacher. There is not a formal program for this evening, it is an open house for you to come, pop in, and say hello.
Our Glen Allan School Council will also be greeting families at the front entrance when you arrive with a welcome back treat.
Save the Date - Glen Allan School Council Meeting
The Glen Allan School Council is a wonderful way to be involved in your child's school community. We invite all our parents and caregivers to be involved in our Glen Allan School Council.
We would like to welcome and encourage you to join us for our first 2022-23 Glen Allan School Council (GASC) meeting on Thursday, September 15 at 6:30 p.m. in the school library. If you are unable to join in-person, you can also join us virtually.
For those joining virtually, the Team Meeting link will be in the weekly "Buzz" the week of the meeting, included in the banner on our our Glen Allan Elementary Website, and can be found with the link to the meeting agenda.
Update your PowerSchool information
The EIPS Correction and Verification Form is now available online through your PowerSchool Parent Portal. Use the form to access and update your child's records information—including address, parent and guardian information, emergency contacts and medical information, including allergies. Reviewing the form and submitting updates ensures the school has the most up-to-date information regarding your child.
When reviewing the form, pay close attention to all listed phone numbers, email addresses and emergency contact information. Also, if you recently moved, now is the time to ensure the Division has your updated address. Throughout the year, the Division and school uses the listed information to communicate with families about important information, including updates, the latest news and event.
EIPS Correction and Verification Form
Review and update the form by Sept. 22, 2022.
For more information about the PowerSchool Correction and Verification Form, contact the school office at 780-464-5519.
Student Medication
If your student requires medication to be accessible at the school such as Tylenol, Advil, Benadryl, Reactine, and Tums, please fill out the Medication Management Plan and return it with the medication to Mrs. Peichel in the office or email return the form to  general.gln@eips.ca.
Students are not permitted to administer their own medication at school.  All medication should be provided in its original packaging and labelled with student's name.  All medication will be stored in the office with administering recorded.
Attendance Reminders
Please email General.GLN@eips.ca to let the office know of any regular reoccurring appointments, or permission notes if your child is allowed to sign out at the office to go home for lunch.
As well, in addition to communication with the teacher, please let the office know via phone or email if your child has appointments, will be leaving early, or will be away. We can be notified well in advance if you know of those dates early.
There is also an attendance button on our website that allows you to report your child's absence with one easy click!
School Agenda Reminder
Thank you to those families who've returned the Agenda Order form.
All students are required to have an agenda for the 2022-23 school year. Glen Allan has agendas for families to purchase for the cost of $4.25. We recommend these agendas for student use as they are of high quality, formatted for optimal classroom use, and students having the same agenda provides consistency in the elementary classroom. If students have attended Glen Allan in the past, the agendas are similar to what they received previous years. If families choose not to purchase an agenda from the school, it will be the responsibility of the family to provide an agenda that has space for daily communication.
You can access another copy of the order form by clicking this link - https://www.glenallanelementary.ca/download/397123
OPPORTUNITY
Pay School fees online!
School fee information for the 2022-23 school year will be posted on the PowerSchool Parent Portal in late September. All fees are due within 30 days of being posted. To access your fee information, simply log in to the PowerSchool Parent Portal and go to "Student Fees." There you can view your fees and pay online using a credit card.
Don't forget to log in to the PowerSchool Parent Portal regularly throughout the year. Fees are often added to your child's account to cover the cost of certain school activities such as field trips, class projects, athletic-team fees and more. Additionally, junior high and senior high fees can change as courses are added and deleted. 
If you're unable to pay your school fees, you can apply to have certain fees waived by submitting an Application for a Waiver of Fees. The application deadline is Dec. 15, 2022.
For more information about school fees, waivers and payment deadlines visit eips.ca. Alternatively, contact Mrs. Delainey at Glen Allan Elementary at 780-467-5519
Sync the School Calendar to your calendar
Did you know you can sync the school calendar to your own calendar? You can. Simply, visit https://www.glenallanelementary.ca/about/calendar and click on the applicable subscription option:
Download to iCal
Add to Google Calendar
Subscribe to Calendar
NOTE: Options are located above the calendar.
Once you click on the desired subscription option, follow the instructions. Within seconds, your calendar will contain all Glen Allan Elementary's important dates including holidays, school-closures days, planned activities, events and more.
Download the SchoolMessenger App
Glen Allan Elementary and the Division use the SchoolMessenger platform for communicating with families—through both phone and email. Be sure to add communications@eips.ca and General.GLN@eips.ca to your safe sender list to avoid having important messages funneled into your junk mail folder.  
The easiest way to stay connected is to download the SchoolMessenger app. Get the latest updates direct to your mobile device and enable push notifications to never miss a message. Families can also check back on past messages—for up to 30 days—directly in the app rather than searching to find an old message buried in your inbox. Download the SchoolMessenger app from the App Store or Google Play today.  
Coming soon—the Safe Arrivals absence reporting tool will be rolled out within the SchoolMessenger app later this school year. Families will be able to quickly and easily report a child's absence directly in the app. No more phone calls or emails required. Stay tuned for updates in the coming months.  
INFORMATION
Improving home-school communication
To enhance communication between families and schools, Elk Island Public Schools (EIPS) created a how-to guide entitled, Communication Protocol for Schools. Topics include:
appropriate channels to use;
standard formats and structures;
timing and sequencing for regular and ongoing home-school communication; and
ways to bring forward questions or concerns.
The guide also offers useful tools and resources schools, and families can use to enhance face-to-face meetings, email communication and various social media efforts. EIPS encourages all families and schools to review the guide at: Communication Protocol for Schools
Video surveillance on buses
Did you know each EIPS bus is equipped with video surveillance?
Video surveillance and equipment help:
ensure the safety of all students, drivers and property; and
discourage destructive acts.
Regularly basis, EIPS Student Transportation reviews the video recordings, in accordance with the Freedom of Information and Protection of Privacy (FOIP) Act. The recordings assist the department with monitoring student and driver conduct and may be used as evidence in a disciplinary matter.
For more information about the collection, use and disclosure of personal information, contact the EIPS FOIP Co-ordinator at 780-464-3477.
EIPS Career Pathways 
Check out the EIPS Career Pathways September News Letter
What is Career Pathways? 
Career Pathways is a Division model designed to foster the growth of every student by supporting their journey from early learning through high school completion and beyond. From Kindergarten through to Grade 12, students develop awareness of self and discover possibilities for life beyond school through competency focused experiences. Students will have the opportunity to learn about themselves, explore multiple career possibilities, as well as set goals and make plans.  
Why is Career Pathways Important?  
Career Pathways is designed to help students develop a curiosity about the world around them, develop a personal inventory of strengths and interests, and learn how to build upon them. Through purposeful student-centred activities and experiences connected to curricular outcomes, teachers in all grades will encourage students to develop the transferable skills required for success in the future.  
The Career Pathways model encourages student, caregiver, and teacher conversations to learn about self-reflection, goal setting, and creating a personal skills inventory. Career Pathways fosters an environment where parents and guardians, as well as the local community, are seen as partners in education. Opportunities to build and demonstrate competencies essential for work and life is the foundation for Career Pathways planning in the classroom.