Back to all posts
Posted on
September 26 BUZZ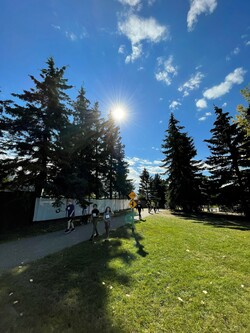 "Try Like Terry"...
...and our Glen Allan community did just that!! Friday was a wonderful day - our first school-wide assembly followed-up by our Terry Fox Run/Walk. As was shared during our school assembly by our two grade 5 MCs, Ella and Daniel, Terry Fox's legacy and impact lives on through the Marathon of Hope which has raised over 800 million dollars for cancer research. 
In response to our Toonies for Terry campaign, our incredible school community raised $712 for the Terry Fox Foundation. That's almost $150 more than last year. Thank you! Thank you! Thank you!
In addition to fundraising, our staff and students honoured Terry and many loved ones they carried in their hearts as they ran and walked our Terry Fox loop Friday afternoon. It was a joy to see students and staff outside moving, some running as many laps as they could and others walking and not quitting even when tired, just like Terry!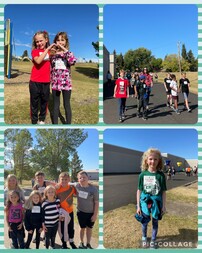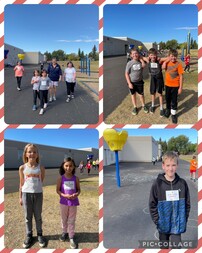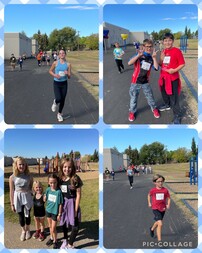 As we look at our week ahead, here are a couple reminders:
2022-23 School Fees have been posted. Please log into your Parent Portal account to view and pay these fees.  
Bring a rock to school for our Orange Shirt Day project
It's a good week to have a good week!
Jen Ference
Week-at-a-Glance
Action 
Commemorating National Day for Truth and Reconciliation / Orange Shirt Day at Glen Allan Elementary
2022-23 School Fees 
Opportunity
Strathcona County National Day for Truth and Reconciliation Event
Caregiver Education Sessions
Information
Read In Week 2022
Numeracy/Math Tips for Home
Enhancing literacy and numeracy
WEEK AT A GLANCE
Monday

A great day for learning and building connections with peers.

Tuesday

Bring a rock to school for the orange shirt day project

Wednesday

Another great day to strengthen numeracy and literacy skills.

Thursday

Orange Shirt Day at Glen Allan Elementary

Friday

National Day for Truth and Reconciliation
School Closure Day
ACTION
Commemorating National Day for Truth and Reconciliation / Orange Shirt Day at Glen Allan Elementary
At Glen Allan we will be commemorating the day with an art rock project and we are encouraging all students to wear an orange shirt on September 29 to commemorate the solemn day of remembrance of the tragic history and ongoing impacts of the residential school system.
September 30 is the second annual National Day for Truth and Reconciliation, a federal statutory holiday created to honour the survivors of the residential school system, the children who never returned home, as well as their families and communities. Because it's a school closure day, the Division will recognize the day on September 29. 
Important Dates as we prepare to commemorate the National Day for Truth and Reconciliation:
Prior to September 26 students are asked bring a rock about the size of a hockey puck that students will paint orange and add messaging to. Please ensure the rock surface is clean as it will be painted. The rocks will then be displayed in our two courtyards.
September 29 students and staff are encouraged to wear orange shirts. We have had some families inquire as to whether Glen Allan will be organizing an orange shirt sale. As a school we will not be coordinating a sale of orange shirts but would like to direct families to the Orange Shirt Society where orange shirt retailers can be found in addition to information and resources related to orange shirt day. 
Learn more about the residential school system and events across the country on the Government of Canada website and from the National Centre for Truth and Reconciliation.
2022-23 School Fees 
Your 2022-2023 School Fees have now been posted. Fees include a Noon Supervision fee of $110 for full time students and $55 for kindergarten students.  If you completed the agenda permission form, we have also added the $4.25 Agenda fee to your student's account. Field trips fees are charged throughout the year as field trips are planned. 
Please note, if you had a credit on your account from a previous year, your balance would reflect that credit.
Please log into your Parent Portal account to view and pay these fees.  If you have any difficulty accessing your account, please call the school office at 780-467-5519.
For more information about Glen Allan's approved school fees please go to our school fees website page - https://www.glenallanelementary.ca/parent-info/school-fees 
OPPORTUNITY
Strathcona County National Day for Truth and Reconciliation Event
National Day for Truth and Reconciliation on September 30, 2022 will be hosted at Broadmoor Lake.
On the mainstage (Broadmoor Lake Plaza) from 1 p.m. - 4 p.m., join guest speakers, an Indigenous elder and Indigenous performers and knowledge keepers to celebrate and learn about the history, heritage, resilience and diversity of Indigenous Peoples. Traditional food will be available for sale, and family-friendly activities including a scavenger hunt and canoe rides will be offered. 
At 2:30 p.m. in County Hall, see the unveiling of the new Heather Shillinglaw art installation "ᒥᔪᑕᒧᐣ  ᓇᓇᓂᐢ miyotamon nananis – it is a good road in all directions". Visitors are invited to meet Heather Shillinglaw, engage in the blessing and smudge and enjoy refreshments. 
At Gallery@501, "The Healing Language of Alex Janvier" will be open 1-4 p.m. Visitors will discover paintings, sketchbook drawings, video and audio works that reflect Janvier's experiences within Canada's residential school system. Mini tours to see Janvier's permanent artworks commissioned in 1976 and 2001 will be available on the half hour. 
Festival Place will be lit in orange to commemorate the day.
Caregiver Education Sessions
Alberta Health Services hosts a variety of virtual caregiver information sessions throughout the year focused on ways to support students' mental health. The sessions are free and geared toward parents, caregivers, teachers and community members who want to learn more about challenges impacting children and adolescents. Session topics include anxiety, ADHD, depression, self-harm, technology, teens and teaching leadership skills, communication, resiliency and more
Visit Caregiver Education to see the monthly caregiver sessions.
INFORMATION
Read In Week 2022
Read In Week returns on October 3. This year's theme: "Choose Your Own Adventure." Through various activities, students will spend the week learning tips on choosing the right book; the art of storytelling; and how stories have the power to teach lessons, broaden perspectives and foster empathy.
Read In Week is a divisionwide initiative held annually to encourage a lifelong love of reading and to enhance literacy awareness among students, staff, families and community members. Glen Allan Elementary invites all families to participate in Read In Week by reading yourself, with your child or with someone in the community.
Don't forget to share what you've learned. Throughout the week, you can post your own stories about Read In Week using the hashtag #eipsreads.
For more information visit readin.ca.
Numeracy/Math Tips for Home
Are you looking for ways to spark math conversations at home? Sign up for https://mathbeforebed.com/ where you can download a free sample e-book that provides conversation starters around math concepts.
Games are a great way to bring math to life! Here are some examples of games you can play at home to support your child's understanding and skills related to numbers and operations.
Play Shake & Spill: fill a container or cup (that you cannot see through) with items such as beads, goldfish, mini marshmallows, etc. Determine how many items you have in your cup (start with small numbers)shake the cup, flip it over onto a surface and "spill" some of the items out. Count how many you have spilled and figure out how many are under the cup! 
Play "Who Am I?" This game is great for developing mental math and math vocabulary! Example: "I am an even number. I am greater than 12 but less than 20. The sum of my digits is 7. Who am I?
Grab a classic deck of cards and access the free e-book 'Acing Math One Deck At A Time' for instruction and game ideas for you and your student.
Enhancing literacy and numeracy
As part of Elk Island Public Schools' (EIPS) ongoing efforts to enhance the literacy and numeracy of students in all grade levels, the Division is once again administering the Star Early Literacy and Star Reading assessment tools in the 2022-23 school year. The Division's also launching a new assessment, called Star Math. These tools focus on literacy and numeracy, are digitally based and offer an opportunity for students to demonstrate their learning. The goal: To provide timely information to teachers, help enhance classroom instruction and identify student learning needs.
Three times a year, EIPS students in Grade 1 complete the Star Early Literacy assessment and students in grades 2-12 complete the Star Reading assessment. Both assessments are administered electronically and take about 20 minutes. Students in grades 2 through 10 also complete the Star Math, a mathematic screening tool. It, too, is administered electronically and takes about 30 minutes for students to complete. The results offer teachers a clearer picture of a student's learning needs and help determine if subsequent instructional planning is required. NOTE: Semester students, complete the Star Math twice, at the start and end of the course.
In addition to the Star assessments, Alberta Education now mandates all students in grades 1-3 complete additional literacy and numeracy assessments. Students in Grade 2 and Grade 3 completed these provincial assessments in September. Grade 1 students will complete the assessments in January 2023. EIPS also administers the assessments to all Grade 4 students to gauge learning loss from the pandemic, which the Division is now analyzing.
The scores of the assessments aren't used toward a student's grade, and there is no need to study ahead of time. The tools simply provide the teacher with information to better understand where each student is in terms of reading comprehension and mathematic ability. If, after analyzing the results, it's determined a student can benefit from extra support, the teacher will contact the family to discuss possible support strategies.
For more information about the Division's Star and MIPI assessment tools, contact EIPS Supports for Students at 780-464-3477.