Back to all posts
Posted on
October 31 BUZZ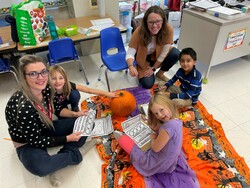 It was wonderful to have so many parents in the school last week for conferences, book fair, and hot lunch! Thank you for the conversations about your child(ren) and for generously supporting our library program. We also appreciate all our parent volunteers! Your gift of time made our book fair and hot lunch a success! Having parents as partners in our students' education is of value to all the staff here at Glen Allan. 
We'll be kicking off this week before November Break with our Halloween activities and wrapping it up with our Remembrance Day Service. 
It's a great week to have a great week!
Jen Ference
Week-at-a-Glance
Action 
Remembrance Day Service: Friday, November 4 - RSVP
Personal Toys and Trading Cards at School
Opportunity
Grades 1-6 Report Cards
Spread the Word: EIPS is Hiring Substitute Educational Assistants and CTS/CTF Teachers
Caregiver Series - November Sessions
Information
Where to Find the Information You Need
Inclement Weather
Family Resource Network - Reach Out Speak Out
Photo Gallery
WEEK AT A GLANCE
Monday

Halloween Dress Up Day
Halloween Assembly

Tuesday
Wednesday

Early Dismissal - students dismissed 2:08 pm
Glen Allan Staff Meeting

Thursday

Fit Kids for Grades 1-6 Students (dress for the weather as we try to be outside as much as possible for this class)

Friday

Remembrance Day Assembly 10:30 am - Parents Welcome!

November 7-11

November Break - School Closure
ACTION
Remembrance Day Service: Friday, November 4
We invite all interested parents and caregivers to join us on Friday, November 4th for our annual Remembrance Day Service.  Our service will pay tribute to the countless men and women who have served and continue to serve our country. The program will begin at 10:30 am in our school gymnasium. We ask that parents arrive at 10:15 am.
We would also like to extend an invitation to any war veterans, members of the military or any other service groups (fire fighters, police officers, etc.) to join us in uniform if applicable. There will be reserved seating available for these honored guests.  Please let the office know if you will be attending please complete this short survey so we can plan for numbers.
Students are invited to wear their club uniforms to school as well, e.g. Cubs, Scouts, Cadets, Brownies, Guides, etc.
Personal Toys and Trading Cards at School
We ask that students please keep their personal toys, such as stuffies, moon balls, figurines, as well as pokemon cards at home. When these items come to school they can be a distraction to learning and can, at times, be at the centre of disputes during recess. 
If there is a reason a student needs to have a personal toy at school, please advise their teacher of the reason and remind your child that the toy needs to remain in their backpack for the school day.
OPPORTUNITY
Grades 1-6 Report Cards
To best communicate student learning, some changes have been made to report cards, including a slight redesign. This November, parents and guardians will continue to access report cards through PowerSchool—simply log in to your account and click on the "Report Card" button in the lefthand sidebar.
Similar to the previous report card, students will still be assessed on a Learner Attributes Scale and Achievement Scale. Some categories have been modified to align with the new curriculum.
The first report cards of the school year for Grades 1-6 students will be published November 25, 2022.
Spread the Word: EIPS is Hiring Substitute Educational Assistants and CTS/CTF Teachers
Do you know someone who may be interested in part-time, flexible work as a substitute educational assistant (EA) or substitute teacher specializing in Career and Technology Studies (CTS) and Career and Technology Foundations (CTF)? Elk Island Public Schools (EIPS) is hiring—spread the word!
EAs are integral to the school team, assisting teachers with instructional and non-instructional tasks in the classroom and other school activities. Whether it's working one-on-one with individual students or with a small group of students in a class or special program, EAs provide support and assistance to help students achieve success.
Substitute teachers are needed every day across the Division, and vacancies in CTF and CTS classrooms require a specific skillset. Applicants must have or be eligible for an Alberta Teaching Certificate and have related CTS/CTF training or experience.
Substitutes are needed to fill positions at all school locations until the end of the school year. The application deadline is November 18. If you know someone who'd be great in one of these roles, encourage them to apply today.
Caregiver Series: November Sessions
Alberta Health Services offers free online programming for parents and caregivers of children and youth. Sessions are offered through Zoom. Upcoming topics include understanding depression and self-injury, substance use and building executive functioning skills. The list of November 2022 sessions is now available.
INFORMATION
Where to Find the Information You Need
Elk Island Public Schools and Glen Allan Elementary use a handful of key systems to share information with students and families. Depending on the information you're looking for, it's important to know where to look.
PowerSchool is the primary student information system within the Division. There is an associated app, but the functionality is limited, and families don't need to download it. From the PowerSchool Parent Portal, you can:
Access student grades and report cards;
Review student absences;
Pay school and transportation fees; and
Submit official updates to student or family information.
The PowerSchool Student Portal provides similar access to grades and absence information for students directly.
Brightspace provides more of a day-to-day look what's happening with your child's learning communicated directly from your child's teacher. From Brightspace Parent & Guardian, you can see your child's:
classroom activity feed,
grade items and grade feedback from instructors,
upcoming assignments,
portfolio evidence and
quizzes
depending on which of the program functions are specifically used by your child's teacher.
Brightspace for Students is where teachers share updates, calendar reminders and learning materials with students. Compatible with Google, it also allows students to submit assignments, complete quizzes, and see grades and teacher feedback. The Pulse app for students is associated with Brightspace for Students.
SchoolMessenger is the system the Division and schools use to send email and phone communication to families. The contact information in SchoolMessenger is populated from PowerSchool. Through SchoolMessenger, families can:
receive general, emergency and attendance messages by phone, email or both; and
manage their subscription preferences for these types of messages.
The easiest way to stay connected is to download the SchoolMessenger app. Get the latest updates direct to your mobile device and enable push notifications to never miss a message. Families can also check back on past messages—for up to 30 days—directly in the app rather than searching to find an old message buried in your inbox.
If you have trouble accessing any of these systems or have questions about them, contact the school office at 780-467-5519.
Inclement Weather
With the winter season almost here, we want to remind families to dress children appropriately for the weather when getting ready for school or the bus. The weather often changes unexpectedly throughout the day, so please select suitable outerwear and ensure your child is prepared for changing conditions.
If inclement weather conditions occur, Elk Island Public Schools (EIPS) advises families of any bus cancellations using various communications tools—automated-telephone messages, alerts posted on www.eips.ca and school websites, Twitter, Facebook, local radio stations, and notification through both the Bus Status and the Ride 360 apps. Morning bus cancellations are posted on www.eips.ca by 6:30 a.m.
Decisions regarding bus cancellations are guided by EIPS administrative procedures that state, "school bus service may be suspended…when there is a forecast or current temperature of -40 C, including wind chill factor, in one or more regions." Other reasons for suspending or delaying school bus services include adverse weather and poor road conditions. When school bus services are suspended, schools remain open to students. EIPS believes families have the right and responsibility to make choices for their children based on their beliefs and perceptions of safety during times of inclement weather.
For more information, contact EIPS Student Transportation at 780-417-8151.
Family Resource Network - Reach Out Speak Out
Are you affected by family violence? You are not alone, we're here to help. – November is Family Violence Prevention Month.
Family violence is the attempts by one person in an intimate relationship to dominate and control the other. This may include a single act of violence, or several acts forming a pattern of assaultive and controlling behaviour. Family violence can include physical conflict, emotional abuse, psychological abuse, stalking, threats to harm children, family members, pets, property, and isolation from family and friends. 
It is important to remember that you are not alone. There are various supports in our community that can help you and your loved ones seek safety. 
Visit strathcona.ca/SCspeakout or call the Strathcona County FCS call line at 780-464-4044 to access resources. 
PHOTO GALLERY
Halloween Assembly