Back to all posts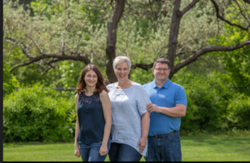 Hi! My name is Tammy Marks, and I am so happy to have joined the Glen Allan family as your new counselor. You may see me around the school on Mondays and Thursdays and alternate Wednesdays. When I am not at Glen Allan, I work at Lamont Elementary as the counselor there. Before coming to Elk Island Public Schools, I was a part of the Prairie Land Public School Division. I began my teaching career almost 30 years ago and have had the pleasure of teaching all grades between kindergarten and grade nine.  
When I am not at school, I enjoy spending time with my husband, Derek, and my daughter, Elisabeth. Gardening and traveling are a few of my passions along with grumpy-faced cats. My nephews and nieces love to visit as we have three Persian cats to cuddle and play with—Miso, Maki, and Sushi. Do you notice a pattern?! 
If you see me in the mornings by the buses, or after school on the playground, please introduce yourself and say "hello." I am so excited about this school year and cannot wait to visit all the classrooms next month when our Character Education program begins.  
As we look at the week ahead, here are some things to be aware of:
Week-at-a-Glance
Action 
Read In Week 2022 taking place October 3-7
Pay School Fees Online!
Introducing Permission Click
Opportunity
Parent Internet Safety Session
Talking to Children About Sexuality and Sexual Health Workshop
Information
Celebrating World Teachers' Day: October 5
School Bus Safety Week: October 16-22
WEEK AT A GLANCE
Monday

Tuesday

Bev Facey Drama Students Visit Classes for Read-in-Week
Grade 4 Strathcona County Waste Presentation

Wednesday

Early Dismissal for Students 2:08 pm
Glen Allan Staff Meeting

Thursday

Happy Early Thanksgiving! We are so grateful for our Glen Allan community!

Friday

Professional Learning Day for Teachers
School Closure Day for Students
ACTION
Read In Week 2022 taking place October 3-7
Read In Week returns on October 3. This year's theme: "Choose Your Own Adventure." Through various activities, students will spend the week learning tips on choosing the right book; the art of storytelling; and how stories have the power to teach lessons, broaden perspectives and foster empathy. Some of the activities planned for Read In Week include:
Bev Facey students coming to read to various classes
Guess Who? Bulletin Board
Golden Ticket Trivia
Morning Announcement Activities
Read In Week is a division-wide initiative held annually to encourage a lifelong love of reading and to enhance literacy awareness among students, staff, families and community members. Glen Allan Elementary invites all families to participate in Read In Week by reading yourself, with your child or with someone in the community.
Don't forget to share what you've learned. Throughout the week, you can post your own stories about Read In Week using the hashtag #eipsreads.
For more information visit readin.ca.
Pay School Fees Online!
School fee information for the 2022-23 school year is now posted on the PowerSchool Parent Portal. All fees are due within 30 days of being posted. To access your fee information, simply log in to the PowerSchool Parent Portal and go to "Student Fees." There you can view your fees and pay them online.
Don't forget to also log in to the PowerSchool Parent Portal regularly throughout the year. Fees are often added to your child's account to cover the cost of various school activities such as field trips, class projects, extracurricular activities fees and more.
If circumstances exist where you are unable to pay your fees, you can apply to have certain fees waived by submitting an Application for a Waiver of Fees. The application deadline is Dec. 15, 2022.
For more information about school fees, waivers and payment deadlines, visit www.eips.ca/schools/fees and https://www.glenallanelementary.ca/parent-info/school-fees Alternatively, contact Mrs. Delainey at Glen Allan Elementary at 780-467-5519
Introducing Permission Click
EIPS has begun migrating school and Division forms to the online Permission Click platform. Many families will have already received one or more forms within the new system. Permission Click makes the form submission process for families simple and straightforward. Forms are also easily accessible and fillable from your mobile device. Families will generally receive forms in one of two ways—sent as a link within a SchoolMessenger email or in a direct email from Permission Click sent to the first parent or guardian on record in PowerSchool. Be sure to add notifications@permissionclick.com to your safe sender list to ensure required forms aren't mistakenly directed to your junk mail folder.
OPPORTUNITY
Parent Internet Safety Session
In collaboration with Fort Saskatchewan Family and Community Support Services and Boys and Girls Club Fort Saskatchewan, SAFFRON is also offering one parent internet safety session. The presentation will teach parents and caregivers how to practice internet safety with youth and discusses online child sexual exploitation and how to respond to it. For more information click here
Wednesday, October 19
7 p.m. to 9 p.m.
BGC Fort Saskatchewan
Registration is not required. For more information, call 780-992-6267 or email fcssinfo@fortsask.ca.
Talking to Children About Sexuality and Sexual Health Workshop
The Centre for Sexuality is hosting a workshop on how parents and guardians can talk to their children about healthy relationships, sexuality, and sexual health. For more information click here
Tuesday, October 18
7 p.m.
Virtual
INFORMATION
October 5 is World Teachers' Day! Launched in 1994 by the United Nations Education, Scientific and Cultural Organization (UNESCO), World Teachers' Day is celebrated annually around the world as a way to recognize teachers and the integral role they play in providing quality education to students. On October 5, Elk Island Public Schools (EIPS) encourages all of its students, parents and community members to show their appreciation for their teachers and the positive impact they make on our lives.
EIPS extends its heartfelt thank you to all Division teachers for their dedication, hard work and commitment in guiding and educating students through their kindergarten to Grade 12 years. 
School Bus Safety Week: October 16-22
Schools throughout Elk Island Public Schools (EIPS) are celebrating School Bus Safety Week October 16-22. The theme: 'Make the World Green, Ride Yellow,' which focuses on transportation choice and the environment. Throughout the week, various activities are planned, including information sessions, bus-safety lesson plans and bus-evacuation drills.
As part of School Bus Safety Week, Glen Allan Elementary reminds students and families all Division school buses are equipped with a bus-pass scanner, GPS technology, the Child Check-Mate system and surveillance equipment, which allows Student Transportation to better monitor and manage its more than 170 buses. Families and students also have access to the Traversa Ride 360 app, a mobile tool to help determine the location of a bus, projected arrival times and when a child is scanned onto a bus.
For more information visit EIPS Student Transportation or contact 780-417-8151.