Back to all posts
Posted on
October 24 BUZZ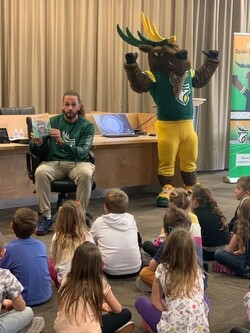 We have another busy week ahead at Glen Allan, as we enter our final full week of October. There are so many events that we are excited to be sharing this week, including: in-person parent teacher conferences, Book Fair, and Hot Lunch! Be sure to check out the blog post on our website to find full details about what Halloween festivities we have planned for the 31st  as well.
Have a fabulous week!
Chrissy Appleby
Week-at-a-Glance
Action 
Parent Teacher Conferences
Book Fair
Hot Lunch
Information
Halloween at Glen Allan Elementary
Photo Galleries
Grade 1 & 3 Attend the Edmonton Elks Book Launch
WEEK AT A GLANCE
Monday

Enchanted Forest Book Fair begins

All classes will have time to view book fair today!

Noon deadline for booking P/S/T Conferences

Tuesday

Book Fair Buying Day for Classes:

Kindergarten B (Taverner)
1-1 (Lastiwka)
1-2 (Curran)
2-1 (Miles da Silva)
3-1 (Foley)
4-2 (Halcrow)
6-1 (Nent)

Grade 6 Drama Club at Lunch
Hot Lunch Orders Close at 4 pm
Parent/Student/Teacher Conferences (By appointment)
Book fair will be open from 4PM-6PM during conferences.

Wednesday

Book Fair Buying Day for Classes:

Kindergarten A (Taverner)
2-2 (Moncrieff)
3-2 (Westergaard)
4-1 (Kowalchuk)
5-1 (Robinson)
5-2 (Christie)
6-2 (Budney)

Thursday

Fit Kids for Grades 1-6 Students (dress for the weather as we try to be outside as much as possible for this class)
Parent/Student/Teacher Conferences (By appointment)
Book fair will be open from 4PM-6PM during conferences.

Friday

Our final Friday of October full of great literacy and numeracy activities
ACTION
Grades 1-6 Parent Teacher Conferences
We look forward to seeing parents at school October 25 and 27 for parent/teacher conferences. Each conference is scheduled for 10 minutes. We ask that parents respect the 10 minute booking as the teacher's schedules are full these evenings and we don't want other families to have reduced time or miss their conference. 
Book Fair 
The Enchanted Forest Book Fair is this week! On Monday all classes will have an opportunity to view the book fair and make their wish lists. On Tuesday and Wednesday students will have an opportunity to make purchases. Please see the Week-at-a-Glance for each class' shop day. 
The book fair will also be open to parents from 4:00 pm until 6:00 pm on both conference evenings, October 25 and October 27. This is an opportunity for parent to do a little early holiday shopping or simply "just because" shopping. The gift of reading is precious!
Parents also have the option to purchase items online. Here is the link that you can use to purchase online https://virtualbookfairs.scholastic.ca/pages/5175023
Thanks you in advance for supporting the Glen Allan Library book fair. This is an important fundraiser for our library program,
First Hot Lunch of the 2022-23 School Year!
On Thursday Oct 27 GASC will be hosting our first hot lunch of the school year which will be Nitza's Pizza.
Log on to gln.hotlunches.net to order. If setting up an account for the first time, the Access Code is GLEN. Orders will close at 4 pm on Tuesday Oct 25. All orders must be paid through the hot lunch website. GASC is unable to take cash or cheques at this time. Please do not send payment to the school. Unpaid items as of the cut-off time will not be ordered.
We are looking for volunteers to come help the day of. You can sign up to volunteer on the website at the time of purchase. If you run into any problems please contact Adrienne @ amsuelzle@gmail.com 
INFORMATION
Halloween at Glen Allan Elementary
We are excited to experience a good old fashioned Halloween experience at school this year! In order to make sure that this event is safe and fun for all here is what you can expect!
Halloween Assembly
We are hard at work preparing for our Halloween assembly in the afternoon on October 31. 
Halloween Costumes
Students are welcome to come dressed in their costumes for the day. Please help us out by making sure that costumes are not too scary/grotesque for our youngest students and that students leave weapons at home for their evening Trick-or-Treating! 
We ask that student costumes allow students to be able to sit in their desks or at their tables as this exciting day will still be a day of learning. We also ask that all inflatable costumes stay at home for trick-or-treating as they do not fit well in desks and unfortunately there have been incidents in the past when those delicate costumes spring a leak and end up getting damaged.
Halloween Treats - Staying Safe
While students may bring a treat or two to school on Halloween for themselves, we ask they they not bring treats for their whole class. We will ensure students have a fun day at school and know they will likely get many treats if they go trick-or-treating in the evening. 
Please remember that we are a Nut Aware school and we request that students not bring food items that contain nuts to school. This is make sure that all of our students are safe! We have Glen Allan students with severe nut allergies. Thank you for your cooperation in making sure everyone has a fun and safe Halloween!
Edmonton Elks Book Launch Field Trip