Back to all posts
Posted on
November 21 BUZZ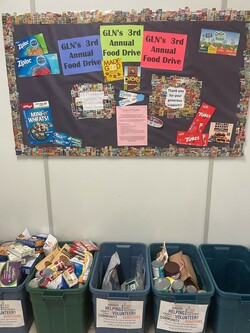 Wow! Thank you to all our students, families and staff who have already contributed to our school's Strathcona Food Bank Drive. What an incredible display of kindness during our Reach out for Kindness and Anti-Bullying week. The bins are filling up and we still have 3 days left for donations to be brought into the school. The final day for donations is Wednesday, November 23. For a list of top items needed, read the food drive article in this post.
This last full week of November brings us Kindergarten conferences and report cards. More information about report cards can be found in the articles below.
It's a great week to have a great week!
Jen Ference
Week-at-a-Glance
Action 
Report Cards are Coming
Glen Allan's 3rd Annual Strathcona Food Bank Drive - Reminder
Christmas Concert News
Opportunity
Giant Floor Map Parent Night
Information
Photo Gallery
WEEK-AT-A-GLANCE
Monday

Still gathering food donations for the Strathcona Food Bank

Tuesday

A great day to build literacy and numeracy skills

Wednesday

Final Day for Strathcona Food Bank Donations
Kindergarten Conferences

Thursday
Friday

Last day for students to submit their "Match the Teacher with the Pet" guesses
Report Cards Published
ACTION
Report Cards are Coming
Term 1 report cards will be published November 25. On Friday report cards will be available through the PowerSchool Parent Portal—simply log in to your account and click on the "Report Card" button in the lefthand sidebar. 
The report card marks are reflective of what would be expected of students in their grade at this time of year and is based on curricular outcomes covered to this point in the year. 
There have been some significant changes in the math curriculums for Kindergarten to Grade 3 this year. Here are links to summary documents of those changes. K-3 Math Curriculum Changes And Comparison
Glen Allan's 3rd Annual Strathcona Food Bank Drive - Reminder
We are very excited to announce Glen Allan's 3rd Annual Campaign to Support the Strathcona Food Bank!
                    Wednesday, November 16 – Wednesday, November 23, 2022
The Strathcona Food Bank is a charitable organization operated by volunteers and a volunteer Board of Directors.  They rely on donations to provide food assistance to those in need in Sherwood Park and rural Strathcona County.
The top needed items are:
No-sugar-added canned fruit and fruit snack cups
No-sugar-added fruit juice, both 1 liter and juice boxes
Canned mushrooms and mixed vegetables
Low sodium broth, 1 liter tetra
Ready to serve soup, chili or stew
Box Macaroni and cheese (such as KD or Annie's)
Personal hygiene items including feminine hygiene, bar soap and shampoo
Dry Dog and Cat Food (we are struggling to meet the demand for pet food so we would really appreciate it if donors would be willing to donate to support furry companions).
Thank you in advance for your kind and generous donations of any size!
Let's see if we can match or beat our donations from 2020 and 2021!In 2020 Glen Allan Elementary donated 1600 pounds of food/other donations, and in 2021, we donated 932.5 pounds of donations!! GO GLEN ALLAN!!
Christmas Concert News
This year's Christmas concert will be held Wednesday, December 14 at Park Church. Classes are currently practicing their songs for the concert. The dress rehearsal will be held during the school day on the 14th. Students will be bussed to Park Church for the rehearsal - watch for a permission click email with the field trip form. Also watch for more concert information from Mrs. Delainey to come in early December.

OPPORTUNITY
Giant Floor Map Parent Night
Please consider joining us for an evening of learning from our EIPS First Nations, Metis, and Inuit Consultant, Cheryl Devin. We will be learning about and interacting with a giant floor map of Turtle Island, as part of our commitment to reconciliation and Calls to Action from the TRC. The event will take place on Wednesday, December 7th from 7-8pm, in our school gym. Please RSVP so we know how many people to expect!
INFORMATION
Rock Your Mocs Follow Up
Our students participated in a Rock Your Mocs assembly Friday afternoon, with Jeremy. He shared this video with us. When watching it, pay attention to the variety of styles, materials, patterns, and colours that are used in the many moccasins you'll see. You can also search #rockyourmocs on social media platforms for more information and photos!
PHOTO GALLERY