Back to all posts
Posted on
November 15 BUZZ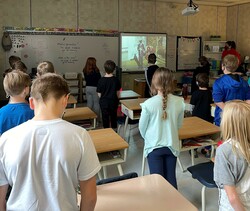 Welcome Back!
I hope that each of our families had a lovely fall break. Prior to the break our students honoured Canadian veterans by participating in the Remembrance Day ceremony. A special thank you to our Glen Allan students, Mrs. Delainey, Ms. Gauthier, Mr. Rushton, and Mrs. Vicic for their contributions to this year's ceremony.
We also enjoyed the first hot lunch of the school year. Thank you to our Glen Allan School Council (GASC) for organizing a delicious Nitza's Pizza lunch for our students. It was definitely a highlight for many prior to going on break. We are grateful for the parent volunteers who gave the gift of time to ensure a smooth delivery.
Our next GASC meeting is this Thursday at 6:30 pm. GASC is open to all parents and guardians of children who attend Glen Allan Elementary. More information about the meeting is included in the GASC article below. 
It's a good week to have good week!
Jen Ference
In this week's BUZZ
Week at a Glance 
Action 
Glen Allan School Council GASC Meeting
Kindness Week
Rock Your Mocs
Opportunity 
Cyberworld: What Happens When Youth Press Send?
Information 
PowerSchool Student Portal Login Credential Update
Week at a Glance
Monday

Welcome Back from Fall Break
Kick Off to One Kind Wish Kindness Week

Tuesday

Crazy Socks Day Recognizing Neurodiverse People --- All of us!

Wednesday

Rock Your Mocks with Jeremy Albert
Superintendent Liguori Visit to Glen Allan

Thursday
Friday
ACTION
Glen Allan School Council Meeting Meeting - Thursday, Nov 18 6:30 pm
We are grateful to have a strong Glenn Allan School Council (GASC) who are committed to learning about the school, providing support to our programs and resources for students, and sharing input and feedback to the school for growth and improvement.
GASC is open to all parents and guardians of children who attend Glen Allan Elementary. The next meeting will be held virtually on Thursday, November 18th 6:30 pm. The agenda can be accessed here. 
This month we will have a special presentation from Cheryl Devin, EIPS First Nation, Metis and Inuit consultant. Additionally we will have the opportunity to meet our new EIPS school Trustee, Trustee Cathy Allen. 
Kindness Week 
November 15 - 19 is Bullying Awareness Week across the province. At Glen Allan we will celebrate Kindness Week with the theme of One Kind Wish. Various activities are planned for the week. For details please read our blog post: One Kind Wish
Rock Your Mocs
Did you know...
Until 1951, the Indian Act restricted Indigenous ceremonies, preventing the wearing of regalia typically worn to these events. 
Traditional dress was also forbidden in residential schools. 
Before 1951, Indigenous peoples required the permission of the Indian agent if they wanted to appear in ceremonial dress off reserve.
Rock Your Mocs is a way for Indigenous Peoples to reclaim their traditions and to celebrate their identities. Each pair of moccasins carries a story about who made them, what nation they are from, what materials they are made of and what story they tell.
People from coast to coast are rocking their moccasins (or favorite slippers/shoes) at school, at the office, and in their communities to promote cultural pride and encouraging Indigenous peoples to share their stories.
It's an opportunity for the Glen Allan community to learn about the diversity of Indigenous peoples and support local Indigenous communities. We invite students, both from Indigenous communities as well as non-Indigenous communities to honour of Rock Your Mocs week! 
Jeremy Albert will be visiting classes November 17 and 18 to further our understanding around Rock Your Mocs. Students are encouraged to wear moccasins (if they have them), slippers, or any type of special footwear to celebrate and honour these lessons.
OPPORTUNITY
Cyberworld: What Happens When Youth Press Send?
To coincide with Anti-Bullying week and Victims of Crime week Ryan Corbould from the Saffron Centre will be doing a Parent "Cyberworld" presentation on Thursday November 18th at 6:00 pm.
In this presentation, parents and caregivers will be provided with information on the popular websites, games, and apps that are being used by children and youth. Legal consequences and potential dangers online will be discussed. Helpful tips on starting conversations with children and youth will also be shared.
Join Zoom Meeting
https://us02web.zoom.us/j/83961771681?pwd=dHRDSUUySWpFTG01WjZRTytIcnZJUT09
Meeting ID: 839 6177 1681
Passcode: 852617
INFORMATION
PowerSchool Student Portal Login Credential Update
After early dismissal on the afternoon of November 3, Elk Island Public Schools (EIPS) is updating the student log in process for the PowerSchool Student Portal. Once updates are complete, students will use their EIPS credentials to login to the PowerSchool Student Portal or the PowerSchool mobile app. Student access to the portal and app may be intermittently unavailable while updates are taking place. Effective November 4, students will use the new EIPS login credentials to access the portal or app. Students who use the mobile app will be required to log out and back in after the updates are complete.
If students are having trouble logging in to PowerSchool after the change, they can contact their teacher or a school office staff member for assistance. This update does not affect the log in process for parents or guardians for the PowerSchool Parent Portal.