Back to all posts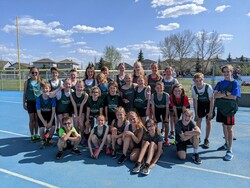 Happy Monday!
We hope all our families stayed safe from the fires this weekend. If you or your families have been impacted by the wildfires across the province and would like our team to connect with you or your children who may be worried, please contact your classroom teacher, our school counselor, Mrs. Marks, or the office so we can be of support. 
Congratulations to our Glen Allan Elementary track team who had a very successful EIPS track meet last Thursday. Check out the photo galleries at the end of the blog post to see photos from the meet as well as other events that happened last week at Glen Allan. 
We look forward to an awesome week of learning capped off with a crazy hair and hat day on Friday!
It's a great week to have a great week!
Action
Opportunity
Information
Last Week at Glen Allan
EIPS Elementary Track Meet
WEEK AT A GLANCE
Monday

Grade 6 Birch Bay Trip
Hot Lunch Order Close 6 PM today

Tuesday
Wednesday

KA Hot Lunch
Class 2- Drawing Club at lunch
Grade 4 Cartooning Club at lunch

Thursday

KB and Grades 1-6 Hot Lunch
FitKids
Grade 5 Dare Program

Friday

Glen Allan Spirit Day - Crazy Hair / Hat Day  
ACTION
Glen Allan Families…We REALLY need your help! 
It's Casino time once again! We are incredibly fortunate to have a chance at raising upwards of $15,000 to $20,000 for our children's school. Funds raised will be used to purchase items that enhance and enrich learning for all Glen Allan students. This year, our casino dates are June 8 & 9 at the Camrose Casino. We must have enough volunteers to fill all spots to proceed with the casino. 
We are looking for volunteers to fill the following shifts: 
Thursday, June 8 from 3pm to 11:45pm  
Friday, June 9 from 3pm to 9pm  
Friday, June 9 from 8:45pm to 2:45am 
This opportunity is only available every 2-3 years so we certainly don't want to pass it up. Please consider getting a group of friends together to make the trek to Camrose and volunteer for this. The jobs are very simple and straightforward, there is ample support to guide you through your role and volunteers receive a free meal while filling their shift.  It really can be a fun night out! 
If you are available to volunteer or would like to receive detailed descriptions of the positions to be filled, please contact Stephanie Mills by phone or text at 780-298-0546 or by email at aclhmills@gmail.com. Make sure to include which date and shift you are available for.
Please sign up no later than May 12. 
On behalf of the Glen Allan School Advisory Council, thank you for considering – we hope to see you there!   
OPPORTUNITY
Parent Engagement Session at Glen Allan 
Glen Allan is co-hosting the following parent engagement session with Wes Hosford Elementary.
Date/Time:  May 17, 2023 5:30 – 7:30 PM
Topic:  No Such Thing as A Bad Kid.  
Presented by:  Strathcona Family & Community Services (SFCS) 
Location:  Glen Allan Elementary 
Details: (In Person) Kids do not come with instruction manuals. Most parents may feel puzzled by their children's feelings and behaviors at some point in their parenting journey. Join Strathcona County Family Resource Network in a presentation that helps parents understand what's behind children's behaviors and learn how to support children with emotional and behavioral challenges.
Questions? Please contact our Counsellor, Tammy Marks @ tammy.marks@eips.ca 
RSVP for the Parent Session here
Glen Allan School Council Elections
Elections for GASC positions will be held on May 25, 2023 (depending on the Oilers play-off schedule) to set the council for the 2023/2024 school year.
GASC is made up of parents or guardians of children who attend Glen Allan Elementary School. GASC is run by elected council members and meetings are held monthly on the 3rd Thursday of the month at 6:30 p.m. (there are no meetings in December, March and June).  *please note a new chair does have the opportunity to change the meeting times and date.*
Being on GASC is a great opportunity to learn more about the school, provide support to excellent programs and resources for the students, and provide input and feedback to the school. Some fun is had at meeting as well.
Below are the GASC positions.  All positions are available for nominations from interested parents. Please reach out to the person currently in the role if you are interested or  have questions (email or phone number has been provided). Details of each position can be found in last week's BUZZ - https://www.glenallanelementary.ca/home/news/post/april-28-buzz
Chair: Christy Ravndahl-George

This position is under active recruitment, Christy has been in the role for 2 years and would be happy to have someone else step in and assume the position.  She has well organized information and documents to pass on and would support the new Chair
Program Vice-Chair: Sheila Connelly

This position is under active recruitment, Shelia has been in the role for 4 years and would be happy to have someone else step in and assume the position.
Fund Development Committee Chair: Jenn Campbell
Budget Vice-Chair: Erin Barrett
Treasurer: Rosa Bull
Secretary: Cynthia Cassidy


Contact Council Chair if you have questions about this position 
This position is under active recruitment, Cynthia has no more children at the school after this year.  She is happy to help train her replacement.
Playground Committee

This is brand new! We are very happy to announce that the back playground will be replaced in 2025. We believe a committee of 3-4 people will be required to help with the planning and fundraising. The goal will be $25,000 and a grant for $25,000. If you child is in a lower grade and/or have more children coming up to Glen Allan this is your chance to have a say in the playground.
Bike Rodeo and Safety Fair
The Strathcona County Royal Canadian Mounted Police (RCMP) have organized a Bike Rodeo and Safety Fair. Enjoy specialized police demos, including the canine unit at 12 p.m. and 2 p.m. There'll be a free bike rodeo for children to learn about bike safety and test their skills on an obstacle course, in addition to other fun activities. Attendees can also get free helmet checks and bike inspections from vendors and visit displays and info booths from community safety partners.
Saturday, May 13
11 a.m. to 3 p.m.
Strathcona Athletic Park
INFORMATION
Caregiver Series: May and June Sessions
Alberta Health Services offers free online programming for parents and caregivers of children and youth. Sessions are offered through Zoom. Upcoming topics include understanding autism, strategies for test anxiety and transitioning to teenage years. The list of May and June 2023 sessions is now available.
Last Week at Glen Allan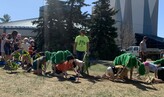 EIPS Elementary Track Meet