Back to all posts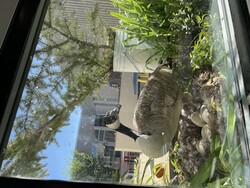 Happy Monday!
To all of the mothers, grandmothers and caregivers in our school community, we hope you all had a wonderful Mothers Day weekend! 
Glenda Watch is in full effect today and will be throughout the week. We thought our Glen Allan goslings might make their appearance yesterday, a perfect Mother's Day for Glenda. But the six eggs are all still intact. Glenda was proudly showing them off this morning for her many admirers. Our school community is anxiously waiting to welcome our goslings and we will keep everyone posted on their progress.
Action
Opportunity
Information
Buddy Time, Making Music & Finding Angles + Glenda
Crazy Hair and Hat Day
WEEK AT A GLANCE
Monday

A great day of learning to kick off the week!

Tuesday

Kindergarten Information Night - 6:00 - 7:00 pm
Drama Club

Wednesday

Grade 6 English Language Arts Part A Provincial Achievement Test
Parent Engagement Evening - There's no such thing as a bad kid 5:30 - 7:30 pm
Drama Club
Grade 2:2-1 Drawing Club
Grade 4 Cartooning Club 

Thursday

FitKids
Grade 5 Dare Program

Friday

School Closure Day - Have an amazing long weekend!
ACTION
If you would like to order your school supplies with Write On Stationary the Deadline to order is June 1st to have supplies delivered to the school prior to the end of June 2023. You may also order over the summer to have supplies delivered to your home or to the school for August 30, 2023 delivery.  Please follow the instructions below: 
FOR ONLINE ORDERS:
• Go to www.write-on.ca
• Click on "PARENTS – Order Here"
• School Name: Glen Allan School-SHERWOOD PARK
• Choose your grade and place your order.
• Complete your order by clicking 'PLACE ORDER'
• You will receive an automatic email confirmation to confirm your order has been received
• We accept VISA, MC, AMEX, Visa Debit and Interac On-line.
Grade level supplies list can be found on our website here.
Outstanding Fees letter from EIPS Secretary Treasurer
All families with outstanding fees will be receiving a letter from the EIPS Secretary Treasurer in the month of May.  Please note that while the letter will confirm the EIPS process for escalating unpaid fees to collections, it will not apply to all families.  When the letters are being prepared, they will not be able to differentiate between new fees and past due fees or be capable of considering fee payment history.
We understand that it may be an uncomfortable email to receive and want to assure families that at the school level we are aware of accounts in good standing.
If you have any questions or concerns, please contact the school at 780-467-5519.
OPPORTUNITY
Glen Allan School Council Elections
Elections for GASC positions will be held on May 25, 2023 to set the council for the 2023/2024 school year.
GASC is made up of parents or guardians of children who attend Glen Allan Elementary School. GASC is run by elected council members and meetings are held monthly on the 3rd Thursday of the month at 6:30 p.m. (there are no meetings in December, March and June).  *please note a new chair does the opportunity to change the meeting times and date.
Being on GASC is a great opportunity to learn more about the school, provide support to excellent programs and resources for the students, and provide input and feedback to the school. Some fun is had at meeting as well.
Below are the GASC positions.  All positions are available for nominations from interested parents. Please reach out to the person currently in the role if you are interested or have questions (email or phone number has been provided). 
Chair: Christy Ravndahl-George

(This position is under active recruitment, Christy has been in the role for 2 years and would be happy to have someone else step in and assume the position.  She has well organized information and documents to pass on and would support the new Chair)
This position Chairs all meetings of the Council, provides general supervision of all activities of the Council, is the official spokesperson of the Council and prepares annual reports.
Program Vice-Chair: Sheila Connelly

(This position is under active recruitment, Shelia has been in the role for 4 years and would be happy to have someone else step in and assume the position.)
This position works with the Principal and the Chair to determine the number of programs and calendar dates for programs during the school year, organizes committees for all programs before the beginning of the next school year (where possible) and keeps a tracking of all programs which include duties of coordinator positions and a report of activities and form letters pertaining to the specific programs.
Fund Development Committee Chair: Jenn Campbell

Cell: 780 907-3100
This position serves as liaison between the FDC and the Council, and is responsible for fundraising and the running of the fund development as a separate entity.
Budget Vice-Chair: Erin Barrett

This position is back up to the Chair, is the connection point between the Council and the Fund Development Committee Chair, prepares the Council budget and provides regular updates at council meetings.
Treasurer: Rosa Bull

The Treasurer handles all money paid to the Council and is responsible for banking, deposits, proper accounting/tracking of Council funds and presents a full detailed account of receipts and disbursements to the Council whenever requested.
Secretary: Cynthia Cassidy


Contact Council Chair if you have questions about this position and she'll put you in contact with Cynthia
(This position is under active recruitment, Cynthia has no more children at the school after this year.  She is happy to help train her replacement.)
This position is responsible for record keeping, taking minutes at the meetings and providing approved minutes to the Principal for posting on the website and keeping a membership list of the Council.
Playground Committee

This is brand new! We are very happy to announce that the back playground will be replaced in 2025. We believe a committee of 3-4 people will be required to help with the planning and fundraising. The goal will be $25,000 and a grant for $25,000. If you child is in a lower grade and/or have more children coming up to Glen Allan this is your chance to have a say in the playground.
INFORMATION
Grade 6 Provincial Achievement Test Schedule
Wednesday, May 17 9:00 A.M.–11:00 A.M. Grade 6 English Language Arts Part A
Tuesday, June 20 9:00 A.M.–10:00 A.M. Grade 6 English Language Arts Part B
Thursday, June 22 9:00 A.M.–9:20 A.M. Grade 6 Mathematics Part A
Friday, June 23 9:00 A.M.–10:10 A.M. Grade 6 Mathematics Part B
Monday, June 26 9:00 A.M.–10:00 A.M. Grade 6 Social Studies
Tuesday, June 27 9:00 A.M.–10:00 A.M. Grade 6 Science
Grades 6 Provincial Achievement Tests (PATs) Quick Facts for Students and Parents/Guardians
What are Provincial Achievement Tests?
Provincial Achievement Tests (PATs) are administered to students in grades 6 and 9 and have three main purposes:
to determine if students are learning what they are expected to learn; 
to report to Albertans how well students have achieved provincial standards at given points in their schooling;
to assist schools, authorities, and the province in monitoring and improving student learning.
When are Provincial Achievement Tests administered?
PATs are administered annually in May and June in English and French language arts, mathematics, science and social studies in grade 6 and grade 9. Some grade 9 students write PATs in January.
Are there any practice questions my child can do before writing Provincial Achievement Tests?
Yes. Students can try out the released questions from previous provincial achievement tests that are located at https://questaplus.alberta.ca.
When will I find out my child's Provincial Achievement Test results? School staff share preliminary results with parents after the PAT administration. Individual Student Profiles (ISPs) are available to schools in the fall of the following school year. School staff will provide parents access to their child's ISP through at least one the following options:
Forward the PDF ISP electronically to parents using the school's digital system
Print and mail a paper copy
Sign-up parents for MyPass where they may access their child's account and results directly
A record of the ISP must be retained in the student's record in accordance with the Student Record Regulation.
Want to know more?
More information and resources for provincial achievement tests are available on the Alberta Education website at https://www.alberta.ca/provincial-achievement-tests.aspx. 
Class Placements 
With registrations and the upcoming school year on our minds, we'd like to share information on how we determine classroom placements. 
Our teachers collaborate with the administration and counsellor to develop balanced class lists as a team which consider several factors such as academic needs, behavioural needs, friendship/social groupings, access to support staff, matching personalities between teacher/student and a balance of genders. Teachers submit a checklist with each draft class list that addresses these considerations, including ensuring at least one friend for each student. As you can imagine, creating class lists is a complicated task.
It is our goal to create balanced classes that provide an excellent educational experience for each child. We appreciate your trust in our professionalism and our desire to do right by all students while balancing the various needs of each family. It is for that reason that we do not entertain requests for classroom placements. If there is an extenuating circumstance that will have a significant impact on your child or family that you feel we need to consider, you can share that information in writing via email to the principal, Jennifer Ference, by May 25, 2023.
PHOTO GALLERIES
Buddy Time, Making Music & Finding Angles + Glenda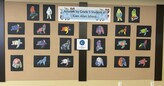 Crazy Hair and Hat Day