Back to all posts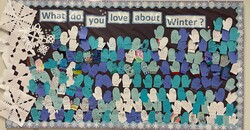 Welcome Back!
Happy New Year!
Welcome back to all our Glen Allan learners and families. We hope that your winter break was enjoyable and relaxing.
My family enjoyed the break, spending the time at home. Some highlights of our break included connecting with family we haven't seen for a while, getting outside for some frosty runs, watching hockey and cheering for Team Canada and the Oilers, and having slow mornings cuddled on the couch with our dog, Buddy. I enjoyed the time off to rest, relax and rejuvenate and am ready and excited to welcome our students and families back as we kick off 2023!
In whatever way your family celebrates this time of year, I hope that you were able to connect with loved ones and find joy.
Week-at-a-Glance
Action 
Welcome Mrs. Ganemtore and Mrs. MacDonald
Opportunity
Kindergarten Registration Starts Soon!
Returning Student Registration for 2023-24
Information
Counsellor's Corner
Inclement Weather
WEEK-AT-A-GLANCE
| | |
| --- | --- |
| Wednesday | Early Dismissal - students dismissed at 2:08 pm |
| Thursday | |
| Friday | A great short week, wrapped up with engaging literacy and numeracy lessons.  |
Upcoming events and important dates:
January 4: Early dismissal
January 18: Secondary French Immersion information session
January 19: GASC Meeting
January 20: Glen Allan Spirit Day – Dress in Denim and Plaid
January 30: Professional Learning Day (schools closed to students)
January 31: Second semester begins
February 1: Early dismissal
February 1: Returning student registration opens
February 1: 2023-24 kindergarten registration opens
February 9 – 10: Teachers' Convention 
February 13 – 17: Book Fair
February 14: Glen Allan Spirit Day - Dress in Red/Pink/Hearts
February 14: Have a Heart Day Assembly
February 15 – 16: Parent Student Teacher Conferences
February 20: Family Day
February 22: Pink Shirt Day
February 23: GASC Meeting
ACTION
Welcome Mrs. Ganemtore and Mrs. MacDonald
Mr. Christie, who has been a wonderful addition to our Glen Allan community, has accepted a full-time teaching assignment in Fort Saskatchewan. While we are sad to bid him farewell, we are happy for his new opportunity. Mr. Christie's last day at Glen Allan Elementary was Friday, December 16.
We are pleased to share that Mrs. Sandra Ganemtore will be returning in an official teaching capacity to Glen Allan January 4, 2023. Mrs. Ganemtore has been volunteering at Glen Allan, completing literacy assessments since September. Mrs. Ganemtore will be teaching the English Language Arts curriculum for Class 5-2.
We are also happy to welcome Mrs. Lynn MacDonald to our Glen Allan team. Mrs. MacDonald joins us with Grade 5 and French teaching experience. Mrs. MacDonald is excited to meet all her new students!
OPPORTUNITY
Kindergarten Registration Starts Soon!
Is your child turning five on or before Dec. 31, 2023? If so, it's almost time to register for kindergarten.
Kindergarten registration opens for the 2023-24 school year on Feb. 1, 2023.
To help families prepare, Elk Island Public Schools has put together an online EIPS Kindergarten Tool kit to make the transition as smooth as possible. The kit includes information on registration, important dates, programming options, what to expect, eligibility, how to find your designated school, transportation and more.
Additional information regarding Glen Allan's kindergarten program is available at https://www.glenallanelementary.ca/parent-info/kindergarten.
Returning Student Registration for 2023-24
Elk Island Public Schools (EIPS) will once again conduct an online returning student registration process to confirm student registrations for the 2023-24 school year. Families of all current students—with the exception of graduating Grade 12 students—must complete the process to confirm the school their child plans to attend in the 2023-24 school year or advise the Division of their plans not to return to EIPS. Additionally, students who want to attend a non-designated school need to make that request through the returning student registration process—acceptance is based on available space. The 2023-24 returning student registration takes place Feb. 1-28, 2023.
Access to the Returning Student Registration Form is provided through the PowerSchool Parent Portal. If you don't have a PowerSchool Parent Portal account, you need to set one up before Feb. 1, 2023.
Create a PowerSchool Parent Portal account
For more information, contact the school office at 780-467-5519.
INFORMATION
Counsellor's Corner
Though the excitement from the holidays has passed, January can bring a sense of renewal. This is a time for us to reflect on the past year as well as an opportunity to set new goals for our upcoming year. As a family, I encourage you to discuss favorite memories with one another, chat about things you are grateful for, and share what you wish to accomplish in 2023. 
Our theme this month is Responsibility. Over the next few weeks, I will visit each classroom to introduce responsibility. Students will participate in a variety of activities as we learn how our choices impact those around us, define what responsibility looks like, and determine ways we demonstrate responsibility. If you are interested in follow-up activities that you can use at home, please let me know.
While I hope your winter break was joyful, I know the season can also be challenging. Holidays can evoke many emotions and the added uncertainty in our world can also bring on feelings of stress and anxiety. I encourage you to reach out to the following or to me if you require assistance: 
Are you having a hard time coping with life's challenges? Are you struggling to make ends meet? Please contact Family and Community Services at 780-464-4044 or https://www.strathcona.ca/council-county/administration/departments/family-and-community-services/
Wecan Food Basket Society of Alberta is a bulk food buying program which offers fresh fruit and vegetables and frozen meat. There is a $5 annual fee to join and packages are $20 for meat, $15 for produce, or $35 for both. Please call 780-464-4044 to order or go to https://wecanfood.com/
A Safe Place is an emergency shelter for women and children. Please call 1-877-252-7233 or visit https://www.asafeplace.ca/
Managing Debt provides information and support for paying down debt, what to do if a collection agency contacts you and getting help with debt: https://www.canada.ca/en/financial-consumer-agency/services/debt.html
Inclement Weather
With the winter season well underway, we want to remind families to dress children appropriately for the weather when getting ready for school or the bus. The weather often changes unexpectedly throughout the day, so please select suitable outerwear and ensure your child is prepared for changing conditions. Mittens and socks tend to get wet throughout the day, an extra pair in your child's backpack may come in handy as we do not have socks to lend.
If inclement weather conditions occur, Elk Island Public Schools (EIPS) will advise families of any bus cancellations using various communications tools—automated-telephone messages, alerts posted on www.eips.ca and school websites, Twitter, Facebook, local radio stations and notification through both the Bus Status and the Ride 360 apps. Morning bus cancellations are posted on www.eips.ca by 6:30 a.m.
Decisions regarding bus cancellations are guided by EIPS' Administrative Procedure 131: Inclement Weather, which states: "school bus service may be suspended … when there is a forecast or current temperature of -40 C including wind chill, in one or more regions." Other reasons for suspending or delaying school bus services include adverse weather and poor road conditions.
When school bus services are suspended, schools remain open to students. EIPS believes families have the right and responsibility to make choices for their children based on they feel is safest during times of inclement weather.
For more information, contact EIPS Student Transportation at 780-417-8151.