Back to all posts
Posted on
January 16 BUZZ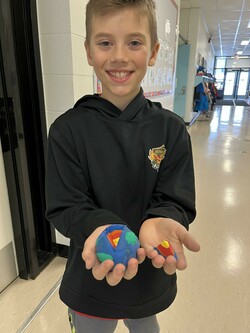 Happy Monday!
In addition to the engaging lessons our teachers plan for our students (check out those model Earths Grade 3 students created!), the staff at Glen Allan provide opportunities for students to have fun, demonstrate leadership, and build positive relationships with peers and adults in the building.
Ms. Gauchier has an awesome group of students who join her in the library during recesses for library club. Many of our Grades 5 and 6 students participate in Drama Club at lunch. Additionally, our Grade 6 students have the opportunity to sign-up to be a part of the Service Club and to be Lunch Room Volunteers. And today, we have a new club starting, Mindful Mondays. You can find more information about Mindful Mondays in the blog post article below.
A couple of reminders for the week:
This Thursday at 6:30 pm is our Glen Allan School Council meeting where we will be discussing fees for next year. All parents and caregivers are welcome. We'd love to host a big group!
It's denim and plaid day Friday
Hot lunch orders are now being accepted for next week's hot lunch.
It's a great week for a great week!
Jen Ference
Week-at-a-Glance
Action 
Glen Allan School Council Meeting - Fee Consultation on the Agenda
Hot Lunch - Friday, January 27
Counsellor Corner - Responsibility Draw
Grades 4-6 Recorder Order
Opportunity
Mindful Mondays
Grade 6 Families - Sport for Life Open House
Strathcona County Family Resource Network Winter Programming
Information
Returning Student Registration for 2023-24
Kindergarten Registration Starts Soon!
Photo Galleries
WEEK-AT-A-GLANCE
Monday

Grades 3 and 4 Mindful Monday in LC2 

Tuesday

Start bringing in your entries for the responsibility draw!

Wednesday

Grades 5 and 6 Drama Club

Thursday
Friday

Kindergarten A Forest Walk
Glen Allan Spirit Day - Dress in Demin and Plaid 
Remember to bring your entry for the Responsibility Draw to the office.
ACTION
School Council Meeting & Fee Consultation - Thursday, January 19 @ 6:30 pm
We are grateful to have a strong Glenn Allan School Council (GASC) who are committed to learning about the school, providing support to our programs and resources for students, and sharing input and feedback to the school for growth and improvement.
At this meeting we will be holding our first fee consultation for next year's school fees. Under Alberta Education's School Fee Regulation, schools must consult with parents prior to setting school fees for the upcoming school year. We'll be sharing information about our current fee structure, posing specific questions about priorities, and asking you to provide your feedback as we plan for the 2023-24 school year. While many of these activities and services enhance students' educational experience, we want to ensure these fees aren't cost prohibitive for families.
We understand not all families will be available to attend the meeting but it's still important we get as much input from the school community as possible. Following the meeting, materials will be shared on our website (https://www.glenallanelementary.ca ) for your review, and an email address provided so you can submit a written response 
GASC is open to all parents and guardians of children who attend Glen Allan Elementary. The agenda can be accessed here. 
Hot Lunch
On Friday January 27 GASC will be hosting hot lunch from Top Donair for the Kindergarten B class and grades 1-6. Kindergarten A students will have their hot lunch day on Wednesday January 25. 
Ordering for hot lunch is currently open and will close on Monday January 23 at 4:00 pm.  
All orders must be paid through the hot lunch website with PayPal AT THE TIME OF ORDER. Please do not order and leave payment for later. Unpaid items as of the cut-off time will not be ordered. 
Log on to gln.hotlunches.net to order.  We are looking for volunteers to come help the day of. You can sign up to volunteer on the website at the time of purchase. If, for any reason, you must make a change to your order, please email Adrienne @  amsuelzle@gmail.com 
Counsellor Corner - Responsibility Draw
Our theme this month is Responsibility. 
To follow up on the conversations we are having at school, I encourage you to speak with your child about responsibility. You can discuss what responsibilities your child has at home as well as at school. 
In addition, we are having a school-wide draw. Students that take time to answer one of the following questions are eligible to enter the draw! Students will receive one entry for each question they answer. 
 What are your responsibilities at recess?
What are your responsibilities when you arrive at school?  
What are your responsibilities when you prepare to leave school? 
If your child is interested in entering, please have them carefully print their answer on a piece of paper with their full name and teacher's name and hand it into the office by Monday, January 23. 
Grades 4-6 Recorder Order
Grades 4-6 will have the opportunity to learn another instrument this year. Learning the recorder helps students with reading music and listening skills. It also develops self-esteem and confidence.  
The sound quality is always better if all students have the same style of recorder. The Handel 2-piece recorder is recommended by Mrs. Delainey. It is a high-quality instrument that can be easily cleaned with soapy water or in the top rack of your dishwasher.  
The school has been able to secure a reasonable price of $6.30 (including gst). A permission click form was emailed January 6. Thank you to families who have already responded to the form. If you have not yet indicated whether you will purchase the recorder from the school or purchase it on your own please do you by January 20, 2023.
Here is a link to the permission click form: https://permission.click/4KQlw/ca 
Thank you for your continued support for our Music Program at Glen Allan.
OPPORTUNITY
Mindful Mondays 
Miss Kowalchuk and Mrs. Marks are thrilled to introduce a brand new club for students in grades 3 and 4. The club is called Mindful Mondays and will provide an opportunity for students to learn about and participate in a variety of activities they can use to calm their bodies.
Interested students are invited to go to LC2 during lunch recess on Mondays, starting January 16. If you have any questions, please contact Miss Kowlachuk or Mrs. Marks.
Grade 6 Families - Sport for Life Open House
Elk Island Public Schools is hosting a Sport for Life open house on Monday, Jan. 23, 2023. All students in Grade 6 and their families are invited to attend to learn more about the Sport for Life program. Participants will gain insight about the how the program works, what is taught to students and the types of activities offered.
Event Details:
Date: Jan. 23, 2023
Time: 6 p.m.
Location: Clover Bar Junior High, library
Strathcona County Family Resource Network Winter Programming
Strathcona County Family Resource Network has their winter programing all laid out. There are programs for grief and loss, early years, child development, and parent education between now and April. All of these programs can be registered for at www.strathcona.ca/families unless they state that they are drop in. 
INFORMATION
Returning Student Registration for 2023-24
Elk Island Public Schools (EIPS) will once again conduct an online returning student registration process to confirm student registrations for the 2023-24 school year. Families of all current students—with the exception of graduating Grade 12 students—must complete the process to confirm the school their child plans to attend in the 2023-24 school year or advise the Division of their plans not to return to EIPS. Additionally, students who want to attend a non-designated school need to make that request through the returning student registration process—acceptance is based on available space. The 2023-24 returning student registration takes place Feb. 1-28, 2023.
Access to the Returning Student Registration Form is provided through the PowerSchool Parent Portal. If you don't have a PowerSchool Parent Portal account, you need to set one up before Feb. 1, 2023.
Create a PowerSchool Parent Portal account
For more information, contact the school office at 780-467-5519.
Kindergarten Registration Starts Soon!
Is your child turning five on or before Dec. 31, 2023? If so, it's almost time to register for kindergarten.
Kindergarten registration opens for the 2023-24 school year on Feb. 1, 2023.
To help families prepare, Elk Island Public Schools has put together an online EIPS Kindergarten Tool kit to make the transition as smooth as possible. The kit includes information on registration, important dates, programming options, what to expect, eligibility, how to find your designated school, transportation and more.
Additional information regarding Glen Allan's kindergarten program is available at https://www.glenallanelementary.ca/parent-info/kindergarten.
PHOTO GALLERIES
Grade 3 Science Models