Back to all posts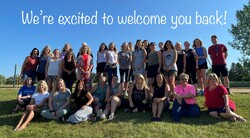 It is almost that time; Tuesday, August 30 is the first day of school for most of our students. The amazing staff at Glen Allan are excited and ready to welcome students into the school and classrooms.
As with the start of each new school year, I anticipate nerves and jitters from both students and families. This is normal, we get them too! Please know that we are excited to have your children in our school and we care deeply about their academic, emotional and social wellbeing. We are here to foster your child's love of learning, nurture the development of positive relationships with peers and staff, and support them in times of success and challenge.
Communication between home and school is incredibly important, as we work together to ensure a successful year. There are many feelings about what is best for our children, and while the majority of the time we are aligned in our thinking, at times we may not all agree. We are grateful for all our families for working in partnership with us to make decisions based on what is best for student learning and wellbeing.
We look forward to welcoming everyone back on Tuesday.
Until then, enjoy these last moments of summer break and we'll see everyone next week.
It'll be a good week to have a good week!
Jen Ference
Week-at-a-Glance
Action 
Class Lists
Student Drop-Off and Pick Up
Attendance Reminders
Opportunity
Noon Hour Supervision Opportunity
Save the Date - Glen Allan School Council
Information
The Buzz Will Continue
EIPS COVID-19 Protocol Update- 2022-23 School Year
WEEK AT A GLANCE
| | |
| --- | --- |
| Monday | Glen Allan Professional Learning Day and Operational Day |
| Tuesday | First Day of School for all Grades 1-6 students and select Kindergarten B students. |
| Wednesday | First Day of School for select Kindergarten A students |
| Thursday | Day 3 filled with fun opportunities for students to get to know their teachers, school staff and classmates. |
| Friday | Day 4 filled with engaging literacy and numeracy activities in our classrooms. |
ACTION
Class Lists
As shared in June, our enrollment has decreased from last year. Careful planning as a staff configured the best possible classes to support student success. We have an amazing team of teachers eager to welcome your children into their classrooms:
| | |
| --- | --- |
| Homeroom | Teachers |
| Kindergarten A | Mrs. Taverner |
| Kindergarten B | Mrs. Taverner |
| 1-1 | Mrs. Lastiwka/Mrs. Delainey |
| 1-2 | Mrs. Curran |
| 2-1 | Mrs. Miles da Silva |
| 2-2 | Mrs. Moncrieff |
| 3-1 | Mrs. Foley |
| 3-2 | Mrs. Westergaard/Mrs. Kemsley |
| 4-1 | Ms. Kowalchuk |
| 4-2 | Ms. Halcrow |
| 5-1 | Mrs. Robinson |
| 5-2 | Mr. Christie |
| 6-1 | Ms. Nent |
| 6-2 | Ms. Budney |
Teachers will be contacting families through email on Monday, August 29 to welcome students to their classes. In the email, there will be details related to the first day of school including which entrance to line up at.
Please keep in mind that teachers have made the class lists with intentionality and careful consideration of several factors. Our goal is to create academically successful, socially responsible, and emotionally stable learning environments for all our students, and we appreciate your trust in our ability to do so.
Class assignments will be visible in PowerSchool by 9:00 am on Tuesday, August 30. We have been made aware that last week some families had a preview of who their homeroom teacher was through the PowerSchool report card. If you are a family who was able to access this information prior to the feature being turned off by the division, please know that, at that time,  class lists were still a work in progress. Over the past week, adjustments and changes to class lists were being made in order to accommodate new registrations, adjust for students moving from Glen Allan, and to balance class sizes. All this is to say, there may be changes to the homeroom that was displayed in PowerSchool report cards last week.
Student Drop-Off and Pick Up
Please remember that the north staff parking lot is strictly a drop off loop for parents. There is no parking permitted in this lot or along the center meridian between 8:15 – 8:30. If you are planning on walking your child up towards their designated door, please park in the visitor parking across Georgian Way and use the crosswalk. Please do not park in designated staff parking. We really appreciate your cooperation for us to keep the traffic flowing and all the students safe! If you would like to see a map, please visit www.glenallanelementary.ca under the Parent Information -> Student Drop-Off Options and Visitor Parking.
Staff will be outside on supervision starting at 8:15 each morning. Please ensure that students are not arriving at school prior to 8:15 am as there will be no supervision. Similar to last year, as students arrive at school, they will line up at designated entrances. Class doors are assigned as follows: Entrance and Exit Door Map (can also be accessed on our school website).
Attendance Reminders
Please email General.GLN@eips.ca to let the office know of any regular reoccurring appointments, or permission notes if your child is allowed to sign out at the office to go home for lunch.
As well, in addition to communication with the teacher, please let the office know via phone or email if your child has appointments, will be leaving early, or will be away. We can be notified well in advance if you know of those dates early.
There is also an attendance button on our website that allows you to report your child's absence with one easy click!
OPPORTUNITY
Noon Hour Supervision Opportunity
We're Hiring! Noon Hour Supervisors' main responsibility is to provide supervision to children during the lunch hour. The schedule will be one hour each day (11:55 am - 12:55 pm), five hours per week, Monday to Friday, starting September 6, 2021 and ending June 28, 2022.
If interested in this opportunity please email Chrissy Appleby, Assistant Principal chrissy.appleby@eips.ca.
Save the Date - Glen Allan School Council
The Glen Allan School Council is a wonderful way to be involved in your child's school community. We invite all our parents and caregivers to be involved in our Glen Allan School Council.
We would like to welcome and encourage you to join us for our first 2022-23 Glen Allan School Council (GASC) meeting on Thursday, September 17 at 6:30 p.m.
The link to the meetings will be in the weekly "The Buzz" the week of the meeting, as a blog post on our Glen Allan Elementary Website, and can be found with the link to the meeting agenda.
INFORMATION
The Buzz Will Continue
I will continue the practice of sending out "The Buzz" weekly to Glen Allan families as one way to connect and keep you up to date and informed. "The Buzz" is comprised of 2 parts: 1. a school messenger that highlights important action items, opportunities, and information related to Glen Allan and 2. a blog post that includes more information and details related the items introduced in the school messenger. With the exception of this first BUZZ communication, the BUZZ will be published on the first day of each school week which is most often Mondays.
In addition to "The Buzz", you can follow us on Twitter @GlenAllanElem and access our school website for information related to Glen Allan Elementary.
If you have any questions, concerns or feedback, please contact us anytime. If you would like to reach your child's teacher or a specific staff member directly, you can email them through PowerSchool. 
EIPS COVID-19 Protocol Update- 2022-23 School Year
All remaining mandatory public health restrictions were lifted on June 14, 2022. While COVID-19-related hospitalizations in Alberta are stabilizing, hospitals throughout the country remain under strain due to staffing shortages. For the most part, it will be back to business as usual for the new school year. However, due to the highly transmissibility of current Omicron BA.2 variant, the Division will continue best practices for the prevention and control of COVID-19 and other respiratory illnesses.
This year previous COVID -19 protocols have been adjusted to align with the current guidance document General guidance for COVID-19 and other respiratory illnesses (June 2022).
COVID-19 PCR testing is available to Albertans with clinical risk factors for severe outcomes. Free rapid tests are available at some pharmacies.
Staff and students should continue to stay home when sick or with symptoms and, if testing positive for COVID-19, to follow the recommended isolation guidelines.
New and safer cleaning and disinfection products will be introduced to schools this year. These products along with hand sanitizer will continue to be readily available for use in classrooms and work areas.
While supplies last, Elk Island Public Schools' Central office has an inventory of medical masks available for persons that need or wish to use them. Alberta Health recommends that people at risk of severe outcomes should wear medical masks when in settings with people outside of their household. Contact the school office if you want masks or have other questions or concerns.
The Division will continue to keep staff and families advised of any changes in protocols. For further information visit COVID information for Albertans.