Back to all posts
Posted on
September 19 BUZZ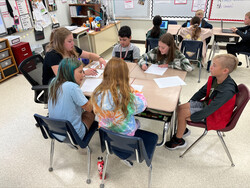 DID YOU KNOW?
It's Picture Day this week!!
You can purchase Glen Allan Spirit Wear?
Our Terry Fox School Run Day is this Friday?
The Orange Shirt Day School Project requires students to bring in a rock?
Can you believe we are already half-way through September?! What an amazing start we've had to the school year. A special thank you to the parents who joined us for last week's GASC meeting. For those who were unable to join us, the meeting minutes will be posted to our school website later this week.
As you will see, there are many amazing things happening at Glen Allan this week!
As we look at our week ahead, here are a couple reminders:
Please complete the Technology User Agreement that should have been emailed to you from Permission Click (our new permission form platform).
If you would like to donate to the Terry Fox Foundation for our Terry Fox School Run, please send a toonie to school this week.
Please email General.GLN@eips.ca to let the office know of any school absences, regular reoccurring appointments, or permission notes if your child is allowed to sign out at the office to go home for lunch.
It's a good week to have a good week!
Jen Ference
Week-at-a-Glance
Action 
Picture Day!
Terry Fox Run - Friday, September 23
Commemorating National Day for Truth and Reconciliation / Orange Shirt Day at Glen Allan Elementary
Glen Allan Spirit Wear
REMINDER: Permission Click - Student Responsible Technology Use Agreement Form
Opportunity
2021-22 Yearbooks Still Available
Strathcona County National Day for Truth and Reconciliation Event
Information
Nut Aware School
Treaty 6 and Métis Flag Raising at Central Services: Video
WEEK AT A GLANCE
| | |
| --- | --- |
| Monday | Welcome back for another great week of learning! |
| Tuesday | |
| Wednesday | Kindergarten A Picture Day |
| Thursday | Kindergarten B and Grades 1-6 Picture Day! |
| Friday | Terry Fox Assembly and School Run |
Picture Day!
Our Picture Days at Glen Allan Elementary are this week!
Wednesday, September 21st is Picture Day for only students in Kindergarten A.
Thursday, September 22nd is Picture Day for students in Kindergarten B and all students Grades 1-6.
Terry Fox Run - Friday, September 23
Toonies for Terry will be collected Monday - Friday. Students can bring toonies to school to donate to the Terry Fox Foundation. Toonies will be collected by the classroom teachers.
The Terry Fox School Run will happen on Friday September 23 at 2:00 pm. After a brief assembly the whole school will gather outside Try Like Terry, and run our Terry Fox loop in the back field. 
Commemorating National Day for Truth and Reconciliation / Orange Shirt Day at Glen Allan Elementary
September 30 is the second annual National Day for Truth and Reconciliation, a federal statutory holiday created to honour the survivors of the residential school system, the children who never returned home, as well as their families and communities. Because it's a school closure day, the Division will recognize the day on September 29. 
At Glen Allan we will be commemorating the day with an art rock project and we are encouraging all students to wear an orange shirt on September 29 to commemorate the solemn day of remembrance of the tragic history and ongoing impacts of the residential school system.
Important Dates as we prepare to commemorate the National Day for Truth and Reconciliation:
Prior to September 26 students are asked bring a rock about the size of a hockey puck that students will paint orange and add messaging to. Please ensure the rock surface is clean as it will be painted. The rocks will then be displayed in our two courtyards.
September 29 students and staff are encouraged to wear orange shirts. We have had some families inquire as to whether Glen Allan will be organizing an orange shirt sale. As a school we will not be coordinating a sale of orange shirts but would like to direct families to the Orange Shirt Society where orange shirt retailers can be found in addition to information and resources related to orange shirt day. 
Learn more about the residential school system and events across the country on the Government of Canada website and from the National Centre for Truth and Reconciliation.
Glen Allan Spirit Wear
YES!!!  You can order Glen Allan Elementary clothing. Sweatshirts, t-shirts, Hoodies and more in any color you choose with the option to include customizable naming....so we know who the item belongs to when it is in the lost and found bin! You can choose your logo, the placement of the logo along with other great features! Sizing charts are available online. 
https://glenallanelementary.entripyshops.com/
Thank you for your continued support. Glen Allan Elementary receives 10% of all of your Entripy Shop orders!
REMINDER: Student Responsible Technology Use Agreement Form with Permission Click
Thank you to our families who've completed the  Student Responsible Technology Use Agreement form. For those who have not yet completed the form, you will find a link to the form in an email from Permission Click.
It is very important to complete the EIPS Tech User Agreement form for your child. Without this form, your child will not be able to use the Chromebooks, iPads or other technology available at the school. Students currently use these items on a regular basis in the classroom.
OPPORTUNITY
2021-22 Yearbooks Still Available
There are still a few 2021-22 yearbooks available for purchase. If you are interested in buying a yearbook that beautifully captured our year last year, please contact the office prior to September 23. As there are only a handful remaining, those who provide payment first will get the yearbooks
Strathcona County National Day for Truth and Reconciliation Event
National Day for Truth and Reconciliation on September 30, 2022 will be hosted at Broadmoor Lake.
On the mainstage (Broadmoor Lake Plaza) from 1 p.m. - 4 p.m., join guest speakers, an Indigenous elder and Indigenous performers and knowledge keepers to celebrate and learn about the history, heritage, resilience and diversity of Indigenous Peoples. Traditional food will be available for sale, and family-friendly activities including a scavenger hunt and canoe rides will be offered. 
At 2:30 p.m. in County Hall, see the unveiling of the new Heather Shillinglaw art installation "ᒥᔪᑕᒧᐣ  ᓇᓇᓂᐢ miyotamon nananis – it is a good road in all directions". Visitors are invited to meet Heather Shillinglaw, engage in the blessing and smudge and enjoy refreshments. 
At Gallery@501, "The Healing Language of Alex Janvier" will be open 1-4 p.m. Visitors will discover paintings, sketchbook drawings, video and audio works that reflect Janvier's experiences within Canada's residential school system. Mini tours to see Janvier's permanent artworks commissioned in 1976 and 2001 will be available on the half hour. 
Festival Place will be lit in orange to commemorate the day.
INFORMATION
Nut Aware School
Glen Allan is a nut aware school; please assist in making our school a safe place by refraining from sending food that contains known nuts. There are some specific classes with students who have severe allergies to nuts or anaphylaxis reactions. 
Glen Allan is using a GARBAGE-LESS lunch program; this means that your child will bring home any garbage or recyclable materials to be disposed of at home. Garbage-less lunch also gives you the opportunity to see exactly what your child is eating during the day. Please try to send your child with reusable containers.
Treaty 6 and Métis Flag Raising at Central Services: Video
On June 13, 2022, the Treaty 6 and Métis flags were officially raised at EIPS Central Services. The flags will fly permanently alongside the flags of Canada and Alberta. The flags are symbolic of the nationhood of First Nations and Métis peoples along with the nation-to-nation relationships held with the Crown and Canada.
A video was created to document this important event and is now available to everyone within EIPS. The video is one way to provide education about the significance of the flags and can be used by schools in their flag-raising events. For more information, contact the First Nations, Métis, and Inuit Education Team.