Back to all posts
Posted on
September 12 BUZZ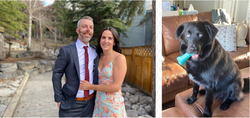 Wow! What an amazing first few weeks of school. It was incredible to see so many families at our Meet the Staff event last week. After such a long time without these in-person events, there was such a great energy from having so many people in our building. Our entire staff is so grateful to be building with such positive parent and caregiver engagement.
I am so thankful to have joined the Glen Allan family. My name is Chrissy Appleby, and I am the Assistant Principal of Glen Allan, this year. I wanted to take this opportunity to introduce myself so you can put a name to the face that you may be seeing in the drop off loop, bus lane, or around the school. I come to Glen Allan after 13 years of working with Elk Island Public Schools, as a teacher and most recently a Literacy Consultant. This year, in addition to being the Assistant Principal,  I will be teaching Kindergarten Phys. Ed., and will be helping with Library and Fit Kids for some classes.
I am originally from Prince Edward Island and enjoy spending my summers there visiting my family. My husband and I live in Sherwood Park, with our dog Ross. When I'm not at school, I love to spend time reading, golfing, traveling, and spending time with family and friends. I can't wait to get to know all the students and families at Glen Allan. Be sure to say "hi" if you see me around!
As we look at our week ahead, here are a couple reminders:
Please complete the Technology User Agreement that should have been emailed to you from Permission Click (our new permission form platform).
GASC (Glen Allan School Council) will be meeting at 6:30pm Thursday, Sept 15. Everyone is welcome to attend!
Please email General.GLN@eips.ca to let the office know of any school absences, regular reoccurring appointments, or permission notes if your child is allowed to sign out at the office to go home for lunch.
Week-at-a-Glance
Action 
Dot Day - September 15
September 15 Glen Allan School Council Meeting 
Permission Click - Student Responsible Technology Use Agreement Form
Asthma Alert Forms
Reminder: Update your PowerSchool Information
Opportunity
Orange Shirt Day 2022
Glen Allan Spirit Wear
Have a Green Thumb?
Information
Caregiver Series: September sessions
AHS Addiction & Mental Health School Newsletter: September edition
Upcoming events and important dates: 
September 15: Dot Day
September 15: Glen Allan School Council Meeting 6:30 pm
September 21: Kindergarten A School Photos
September 22: Kindergarten B and Grades 1-6 School Photos
September 23: Terry Fox School Run Day
September 29: Glen Allan's Orange Shirt Day
September 30: National Day for Truth and Reconciliation (schools and Central Services closed)
September 30: Orange Shirt Day
October 5: World Teachers' Day
October 5: Early Dismissal
October 7: Professional Learning Day
WEEK AT A GLANCE
| | |
| --- | --- |
| Monday | Welcome back to our first 5-day week! |
| Tuesday | Another great day of learning! |
| Wednesday | Students engaged in literacy and numeracy activities |
| Thursday | |
| Friday | Wrapping up a week of great learning and connection building. |
ACTION
DOT DAY!
Thursday, September 15 is DOT DAY! "Just make a MARK and see where it takes you!"
Students and staff are encouraged to dress in clothes that have dots, spots, circles...be creative! 
To learn a little more about the origins of "The Dot" from Peter H Reynolds, check out the video below.
September 15 Glen Allan School Council Meeting 
The Glen Allan School Council is a wonderful way to be involved in your child's school community. We invite all our parents and caregivers to be involved in our Glen Allan School Council.
We would like to welcome and encourage you to join us for our first 2022-23 Glen Allan School Council (GASC) meeting on Thursday, September 15 at 6:30 p.m.
The link to the meetings will be in the weekly "Buzz" the week of the meeting, included in the banner on our our Glen Allan Elementary Website, and can be found with the link to the meeting agenda.
We are currently looking to fill 3 vacant School Council positions: Treasurer, Hot Lunch Coordinator, and School Dance Coordinator. If you are interesting in any of the open positions, please School Council Chair: Christy Ravndahl-George at cravndahl@hotmail.com
For more information about the Glen Allan School Council, check out the GASC pages on our website for an overview, executive members, meeting dates, agendas and past minutes.
Permission Click - Student Responsible Technology Use Agreement Form
Last week you should have received the Student Responsible Technology Use Agreement form in your email.
Permission forms, such as Field Trip Forms and our Student Responsible Technology Use Agreement have moved to a digital platform called Permission Click. Moving forward all permission forms from the school will be emailed to the primary email address in PowerSchool.
EIPS provides access to the Division's network and Information Technology (IT) equipment to enhance learning for students and facilitate work activities for staff, contractors, and volunteers. All users shall adhere to the following standards of responsible use when accessing either division IT resources (software, hardware, network, and Internet), or their own personal electronic device for educational or business purposes.
It is very important to complete the EIPS Tech User Agreement form for your child. Without this form, your child will not be able to use the Chromebooks, iPads or other technology available at the school. Students currently use these items on a regular basis in the classroom.
Asthma Alert Forms
If you have received an asthma alert form from Mrs. Peichel, please complete and return to the office as soon as possible.
Update your PowerSchool information
The EIPS Correction and Verification Form is now available online through your PowerSchool Parent Portal. Use the form to access and update your child's records information—including address, parent and guardian information, emergency contacts and medical information. Reviewing the form and submitting updates ensures the school has the most up-to-date information regarding your child.
When reviewing the form, pay close attention to all listed phone numbers, email addresses and emergency contact information. Also, if you recently moved, now is the time to ensure the Division has your updated address. Throughout the year, the Division and school uses the listed information to communicate with families about important information, including updates, the latest news and event.
EIPS Correction and Verification Form
Review and update the form by Sept. 22, 2022.
For more information about the PowerSchool Correction and Verification Form, contact the school office at 780-467-5519.
OPPORTUNITY
Orange Shirt Day 2022
Glen Allan Elementary will recognize Orange Shirt Day on Thursday, September 29. September 30 is the official Orange Shirt Day, coinciding with National Day for Truth and Reconciliation which is an EIPS division school closure day.
We have had some families inquire as to whether Glen Allan will be organizing an orange shirt sale. As a school we will not be coordinating a sale of orange shirts but would like to direct families to the Orange Shirt Society where orange shirt retailers can be found in addition to information and resources related to orange shirt day. 
The official 2022 Orange Shirt Day design come from a student from Ponoka, Geraldine Catalbas. For details about the design you can read Geraldine's words here.
Glen Allan Spirit Wear
YES!!!  You can order Glen Allan Elementary clothing. Sweatshirts, t-shirts, Hoodies and more in any color you choose with the option to include customizable naming....so we know who the item belongs to when it is in the lost and found bin! You can choose your logo, the placement of the logo along with other great features! Sizing charts are available online. 
https://glenallanelementary.entripyshops.com/
Register to open an account, and follow the steps to make your order!
All questions and concerns regarding your orders are managed directly through the Entripy Shop!  (Please do not call the school, sorry, we will not be able to help you with your Entripy Order.)
Thank you for your continued support...Glen Allan Elementary receives 10% of all of your Entripy Shop orders!
Have a green thumb?
We are looking for any parents or caregivers who might have an interest in helping us clean up our courtyard planters. We have had the courtyards refurbished over the summer, but the planters have some weeds that need to be removed, before topping them up with mulch. If you have a green thumb and a passion for yard work, please let us know.
INFORMATION
Caregiver Series: September sessions
Alberta Health Services, in collaboration with The Mental Health Foundation, offers free online programming for parents and caregivers of children and youth. Sessions are offered through Zoom. Upcoming topics include strategies for positive mental health, resiliency and understanding depression. The list of September 2022 sessions is now available.
AHS Addiction & Mental Health School Newsletter: September edition
The  September edition of the AHS Addiction & Mental Health School Newsletter is now available and focuses on using connection to build resilience.