Back to all posts
Posted on
November 22 BUZZ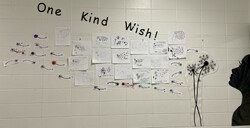 We hope all our families had a fantastic weekend. We had a wonderful kindness week last week. We truly have an amazing Glen Allan community. Many examples of kindness were shared throughout the week. Mrs. Peichel received so many notes with the kind acts that students committed that her morning announcements will continue to be filled with them long past this week I am sure. As we share with our students, kindness isn't reserved for just one week so it will wonderful that our submissions will flow over!
Glen Allan teachers are busy preparing report cards. Report cards will be published this week, on Friday, November 26. They are scheduled to be published at 3:15 pm. With all EIPS elementary schools publishing report cards on Friday, there can sometimes be a delay in the publishing so it could take up to an hour for report cards to be available on PowerSchool.
Also for the end of this week, we are excited to see the creative ideas our classes come up with for Friday's secret theme day!
It's a good week to have good week!
Jen Ference
In this week's BUZZ
Week at a Glance 
Action 
Opportunity 
Learning Disruption Funding
Fee Waiver Applications
Information 
First Nations, Metis and Inuit November Newsletter
Week at a Glance
Monday

Welcome back to another great week of engaged learning! 

Tuesday

Kindergarten Parent Conferences

Wednesday

Glen Allan's Assurance Review
Kindergarten Parent Conferences

Thursday

Metis Week Lessons with Cheryl Devin

Friday

Classroom Secret Theme Day
Metis Week Lessons with Cheryl Devin
Report Cards Published
ACTION
Metis Week Teachings Nov 25-26
We are so grateful to welcome Mrs. Cheryl Devin to our classrooms on Thursday and Friday this week.  She will be teaching each class a lesson that includes various activities to further our understanding about the Metis people, their history and culture within Canada.  Each lesson will have a take-away that will allow students to share this knowledge with their families.
Report Cards - Friday, Nov 26
Term 1 report cards will be posted online this Friday! Learn all about how your child is doing in reading, writing, math and all of the other important subjects! 
Click on the Parent Portal to view your child's report card. Don't have a parental portal access? See the link. Contact Cheri Peichel at 780-467-5519 if you need your access code or if you'd like some help in logging in. As always, if you have questions about your child's progress, please contact your classroom teacher.
Dressing for the Weather
With the wintery weather now upon us, we want to remind families to dress children appropriately for the weather when getting ready for school or the bus. The weather often changes unexpectedly throughout the day, so please select suitable outerwear and ensure your child is prepared for changing conditions.
Students go outside for recess three times throughout the day. Students are required to go outside for recess unless the temperature including wind chill factor is -22 C or colder. The morning and afternoon recesses are 15 minutes in length and at lunch, students are outside for 25 minutes. It is important that they have the proper outerwear to be outdoors for all recesses.
Students should have clothing and footwear that protect them from snow and wind and that ensure no skin is exposed such as ankles. Also, it is great if mitts or gloves can have some water resistance or proofing properties as some of the wool/fleece mitts get very wet and students' hand can become very cold. Another option is to send a second pair of mitts or gloves to school with students. 
OPPORTUNITY
Learning Disruption Funding for Grades 2-3
At the end of last school year, the Government of Alberta announced 2021-22 funding for school divisions to help address learning disruptions for grades 1 to 3 students caused by the pandemic. Elk Island Public Schools (EIPS) has received $791,840 in learning disruption funding to support students in grades 2 and 3, a portion of which has been allocated to Glen Allan.
The funding will provide targeted programming for specific students identified as requiring additional support in literacy and numeracy. At Glen Allan, grades 2 and 3 students participated in the Star Reading Assessment and the Numeracy Assessment Screener earlier this year to assess students' literacy and numeracy levels. Those below the 25th percentile were identified as needing additional supports and eligible for funding. The Government of Alberta learning disruption funding received—at a per-student funding rate of $490—will support targeted intervention programming for these students.
Literacy intervention programming will support students through small-group sessions that focus on targeted reading strategies, including, but not limited to, phonemic awareness, phonics instruction, vocabulary development, comprehension strategies and fluency skills. Reading data will be used to plan structured explicit small-group instruction focused on the areas the teacher has determined as areas of concern.
Numeracy intervention programming will support students through small-group sessions that focus on instruction targeting number sense and basic fact fluency. Fact fluency will include fundamental learning around accuracy, efficiency, flexibility and strategy selection. Student learning profiles will identify areas of need and target instruction.
At Glen Allan Elementary, we are currently developing a plan to support students. Families whose students will participate in the small-group targeted intervention programming will receive a letter in the coming weeks with additional information.  
If you have questions about the intervention programming, contact the school office at 780-467-5519.
Fee Waiver Applications
If circumstances exist where you're unable to pay school or transportation fees, you can apply to have fees waived by submitting an Application for a Waiver of Fees. The application deadline is Dec. 15, 2021. If you're new to the Division, the deadline is the latter of Dec. 15, 2021, or 45 days after registration.
To access your fee information, simply log in to the PowerSchool Parent Portal and go to "Student Fees." There you can view your fees and pay them online using Visa or MasterCard. All fees are due within 30 days of being posted.
Don't forget to also log in to the PowerSchool Parent Portal regularly throughout the year. Fees are often added to your child's account to cover the cost of various school activities such as field trips, class projects, extracurricular activities and more.
For more information about school fees, waivers and payment deadlines, visit www.eips.ca/schools/fees and https://www.glenallanelementary.ca/parent-info/school-fees. Alternatively, contact Mrs. Delainey at Glen Allan at 780-467-5519.
INFORMATION
First Nations, Metis and Inuit November Newsletter
In this month's edition there is information on:
Rock Your Mocks - November 14 - 20
Métis Week - November 14 - 21
MNA Resources
Study Help for Métis Students
Jordan's Principle
Questions - reach out to First Nation's, Métis and Inuit Lead Teachers and EIPS First Nations, Métis and Inuit Family School Liaison Worker, Harlee McArthur
Indigenous Veterans Day
Roots of Resilience speakers series