Back to all posts
Posted on
November 1 BUZZ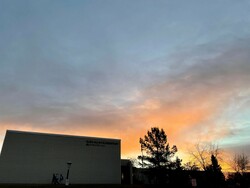 Happy Monday Glen Allan Families!
Last week we were treated to incredible cotton candy skies as we greeted students in the morning. On Friday, we had a great day with the many ghosts, princesses, superheroes, Harry Potter fans and other creative characters who roamed our hallways. As we transition from Halloween to Fall Break we have a big week ahead of us. Check out the details in the blog post articles below.
It's a good week to have good week!
Jen Ference
In this week's BUZZ
Week at a Glance 
Action 
Hot Lunch Friday
Art Cards
Remembrance Day Ceremony
Seeking Indigenous Reconciliation Through Education - Global News Story
Opportunity 
Rock Your Mocs Day November 17-18 and Metis Week 15-21
No Child Without: Free Medic Alert for students
Information 
Literacy At Home
Inclement Weather
AHS Addiction & Mental Health School Newsletter: November edition
Week at a Glance
Monday
Tuesday

A great day of learning and student engagement

Wednesday
Thursday

Deadline for ordering Hot Lunch

Friday

Remembrance Day Ceremony
Hot Lunch Day
Deadline for Art Card Orders
ACTION
Hot Lunch 
The Glen Allan School Council (GASC) is excited to announce that the GLN hot lunch program is back!  This Friday we are having Nitza's Pizza! All pizza choices will be individually packaged, labelled and delivered to the classroom according to current Covid-19 protocols.  
Orders can be made now at gln.hotlunches.net. Orders need to be submitted by the end of the school day Thursday, November 4.
For more information check out last week's blog post: HOT LUNCH! Friday, November 5th!! Nitza Pizza! 
Art Cards
GASC is hard at work preparing this year's art cards. This is one of the school council's annual fundraiser activities. Art card order forms were sent home a couple weeks ago. If you are looking to order art cards this year, please return the forms this week. Even if you made your purchase of art cards online, the form needs to be returned to the school so the committee has the order details. The deadline to order art cards is November 5.
Remembrance Day Ceremony
On Friday we will be holding our Remembrance Day ceremony. Similar to our Truth and Reconciliation program, we will not gather in the gym for a large group assembly but instead, remain in our classrooms to follow a program put together by Glen Allan students, Mrs. Delainey, and Mrs. Vicic. We will post the program to our website so families may also join along.
As we wear our poppies this week and over the Fall break, we remember it is a symbol of the sacrifices many Canadians made for us, our families, classmates, school community and country. It is important to wear only one poppy and that it is placed over your heart.
We won't be together on November 11, but we trust that on that day too, we will take time to pause and remember and share with our families what we will learn this week.
Seeking Indigenous Reconciliation Through Education - Global News Story
In September, Global National was at Glen Allan Elementary filming a story for their current affairs TV show, "The New Reality." Various people were involved in the filming including Glen Allan students and teachers along with Elder Wilson Bearhead and Superintendent Mark Liguori. Below is the story that aired this past Saturday.
OPPORTUNITY
Rock Your Mocs Day November 17-18 and Metis Week 15-21
Jeremy Albert and Cheryl Devin will be joining our classrooms during the month of November to further our understanding around Rock Your Mocs and Metis Week.
People from coast to coast are rocking their moccasins (or favorite slippers/shoes) at school, at the office, and in their communities to promote cultural pride and encouraging Indigenous peoples to share their stories. It's an opportunity for the Glen Allan community to learn about the diversity of Indigenous peoples and support local Indigenous communities.
The Métis decorated their clothing with fancy beadwork and floral patterns. They were so talented, in fact, that they became known as the 'Flower Beadwork People'. The floral beadwork became an important part of Métis culture, as it was distinctively 'Métis'.  This Beadwork was used on moccasins.  This event ties into Metis Week that takes place from November 15-21.  This week is devoted to commemorating the sacrifices of the Métis who continue to strive toward rights and recognition as a distinct nation.
No Child Without: Free Medic Alert for students
In our ongoing effort to provide safe and caring schools for students, Glen Allan Elementary is registered in the Canadian MedicAlert Foundation's No Child Without program. The program is a national initiative that provides no-cost MedicAlert services to children—between the ages of four and 14 years—who have chronic health conditions. The goal is twofold: to help children with severe allergies, medical conditions or special needs and to assist schools with medical-emergency plans for students.
Once a child is registered, the school is provided with advice on a medical-emergency plan for that student and given a list of medications, allergies and medical conditions the student has. If your child has a serious medical condition or allergy and could benefit from MedicAlert services, contact the school office at 780-467-5519. To learn more about the No Child Without program, visit www.nochildwithout.ca.
INFORMATION
Literacy at Home - November Edition
Parents often ask for tips on working with their children at home to build literacy skills. Check out the following tips from the EIPS Literacy Team - The Importance of Vocabulary.
Inclement Weather
With the winter season almost here, we want to remind families to dress children appropriately for the weather when getting ready for school or the bus. The weather often changes unexpectedly throughout the day, so please select suitable outerwear and ensure your child is prepared for changing conditions.
If inclement weather conditions occur, Elk Island Public Schools (EIPS) advises families of any bus cancellations using various communications tools—automated-telephone messages, alerts posted on www.eips.ca and school websites, Twitter, Facebook, local radio stations, and notification through both the Bus Status and the Ride 360 apps. Morning bus cancellations are posted on www.eips.ca by 6:30 a.m.
Decisions regarding bus cancellations are guided by EIPS administrative procedures that state, "school bus service may be suspended…when there is a forecast or current temperature of -40 C, including wind chill factor, in one or more regions." Other reasons for suspending or delaying school bus services include adverse weather and poor road conditions. When school bus services are suspended, schools remain open to students. EIPS believes families have the right and responsibility to make choices for their children based on their beliefs and perceptions of safety during times of inclement weather.
For more information, contact EIPS Student Transportation at 780-417-8151.
AHS Addiction & Mental Health School Newsletter: November edition
The November edition of the AHS Addiction & Mental Health School Newsletter is now available, focusing on talking to your kids about alcohol. Themes, which are also available as individual social media graphics, include: