Glen Allan is...
Our Awesome School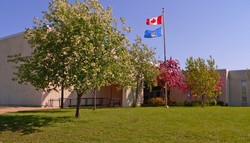 Glen Allan Elementary School is located in Sherwood Park, Alberta - a diverse and dynamic, family-oriented community located 5 km east of Edmonton. Glen Allan School has been the cornerstone of the Glen Allan community since 1972, serving families within our designated boundaries, in addition to innumerable families throughout Sherwood Park. Glen Allan Elementary is home to approximately 400 students in Kindergarten to Grade 6, where 32 professionally trained and devoted staff members offer our students  a well-rounded educational experience in a safe and positive learning environment. As a school  community, Glen Allan prides itself on the network of supportive families who are actively involved in the education of their children. All Glen Allan families belong to our School Council Group (G.A.S.C.)
Through the years, Glen Allan School has graduated thousands of students who have become successful  citizens of outstanding character. Glen Allan alumni continue to visit their former school and often stroll through the hallways, recapturing happy childhood memories. A number of Glen Allan alumni have specifically chosen  to send their own children to our school.
 Sherwood Park continues to be a growing and evolving community. Throughout this evolution, Glen Allan maintains its reputation as a stellar school, reflective of our focus of developing students of good character, with outstanding academic successes. We are committed to our motto: "Creating tracks to excellence while challenging and cherishing every child."